Protesters Signal Climate Challenges Ahead for BP's New Boss
(Bloomberg) -- Greenpeace's delivery today of 500 solar panels to BP Plc's London headquarters is a stark reminder of the challenges the company's new boss Bernard Looney faces.
Looney, who became the company's new chief executive officer Wednesday, is facing what many view as an impossible juggling act: maintaining generous returns, lowering debt and investing in new projects, while also facing increasing pressure to transition toward production of cleaner energy.
Pressure to ditch fossil fuels in favor of less carbon-intensive energy is now coming from investors as well as environmental groups and the public. The Church of England Pension Board has launched a passive index, including oil and gas companies, which is aligned with the goals of the Paris Agreement on climate change. While the index included European competitors Royal Dutch Shell Plc and Repsol SA, BP didn't make the cut. Britain's Royal Shakespeare Company ended its partnership with the oil major last year, saying BP's sponsorship was "putting a barrier" between them and young people.
Looney "understands the frustration and anger of protesters in London," a BP spokesman said in a statement. "He shares their deep concern about climate change and will set out his low carbon ambition for the company next week."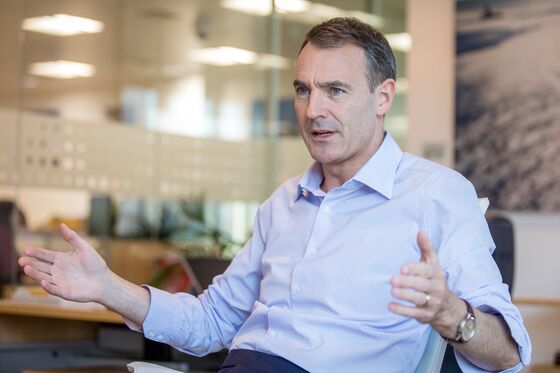 BP has stakes in renewable energy projects, including solar company BP Lightsource and a biofuels joint venture with Bunge Ltd. But oil and gas remains the core contributor to its profits.
For Greenpeace, Looney's statement isn't enough. "They're out of time, we're out of patience and they need to get out of the oil and gas business entirely," 22-year-old activist Immy Done said in a statement. The group blocked BP's office doors Wednesday with dirty oil barrels, preventing employees from entering the building. The company said it had temporarily closed its office as a precaution.
BP hasn't yet set a target for reducing so-called scope 3 emissions -- those produced by its customers. Former chief executive Bob Dudley was reluctant to include scope 3 emissions in climate targets because BP couldn't control other peoples' choices, he said. Yet before his departure, Dudley attended a closed-door meeting at the World Economic Forum in Davos last month with other oil executives. They discussed the need to adopt much more ambitious carbon targets.
When Dudley took the helm at BP, he inherited a company on the brink of collapse following the 2010 Deepwater Horizon catastrophe, the largest offshore oil spill in U.S. history which killed 11 people. He left the role on a high on Tuesday, beating analyst expectations and delivering a dividend hike. He leaves the climate change challenge with Looney.
"I have some big shoes to fill," Looney told analysts as Dudley delivered his last earnings call.