French Protests Sparked by Gas Tax Lead to 1 Death, 227 Injuries
(Bloomberg) -- France was shaken Saturday by the biggest demonstrations since President Emmanuel Macron took office as police responded with tear gas against protesters who blocked traffic in a grassroots movement that coalesced around demands for lower gasoline taxes.
Parisian traffic was snarled as more than 1,000 people marched in the center of the capital, and one protester died in southeastern France after being hit by a car whose driver panicked amid a road blockade. More than 2,000 rallies took place across the country, gathering more than 282,000 protesters, according to the government.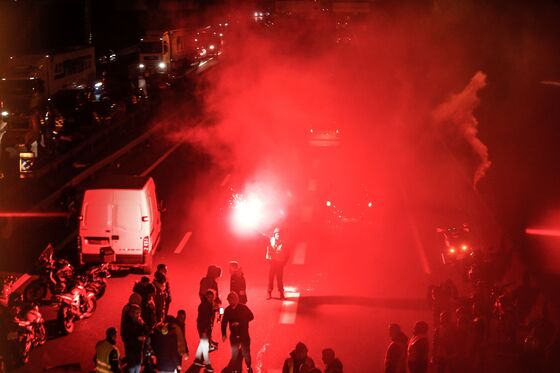 Interior Minister Christophe Castaner said 227 people were injured and dozens arrested amid standoffs throughout the country between protesters who sought to block traffic and drivers. Demonstrators entered a government building in Troyes, in northeastern France.
The day's events place Macron in a delicate position as he strives to take the heat out of a movement which has morphed from a demand to lower gasoline taxes into a diffuse expression of anger against high unemployment and difficulties to make ends meet.
"Our level of concern is at maximal level," Castaner said Saturday morning, according to AFP. He asked demonstrators to take measures to guarantee safety, saying that "the right to demonstrate is essential in this country and must be protected, but one must also ensure that the minimal organization of this protest avoids a tragedy of this kind."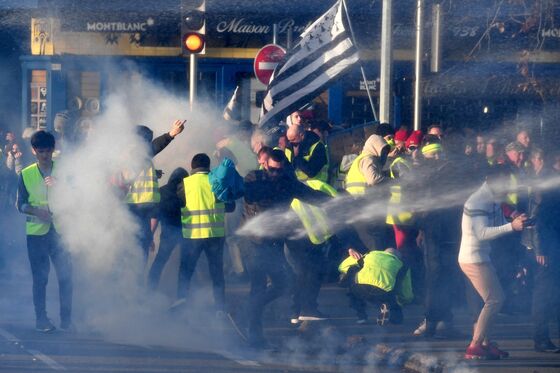 Protesters interrupted traffic on the A13 highway that links Paris to Normandy and blocked the A4 highway near Metz in eastern France, according to toll-road operator Sanef. Traffic was also slowed down by many blockades on the A1 highway north of the Roissy-Charles de Gaulle airport.
The government had said it wouldn't bar any protests, but it wouldn't allow any roads to be blocked. Macron refused to back down on higher gasoline taxes, which is part of a long-term goal of weaning France off fossil fuel.
The social-media-driven movement, which branded itself "gilets jaunes" -- after the yellow safety vests drivers need to keep in their cars -- blames higher taxes on fossil fuels for rising prices at the pump. A petition on Change.org calling for lower gasoline taxes gathered about 860,000 signatures. A website www.blocage17novembre.com listed plans for protests in all of France's 95 mainland departments.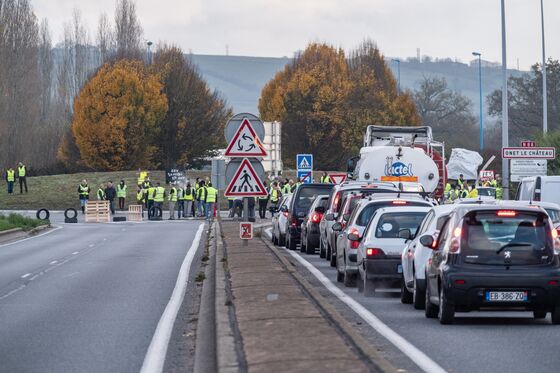 Piggyback
In the runup to the protests, opposition parties tried to associate themselves with the movement.
Far-left party Unbowed France's leader Jean-Luc Melenchon said the number of protesters was much higher than the interior ministry's assessment and accused the government of "dramatizing" the movement. Laurent Wauquiez, leader of conservative party The Republicans, took part in a protest in Puy-en-Velay, central France, calling Macron to ditch his tax hike plans.
"This government hasn't understood the anger of the French," Socialist Party secretary general Olivier Faure said in a statement Wednesday. "We were the first party to express our total support for this movement," said nationalist leader Marine Le Pen in an interview Nov. 13 with Le Parisien.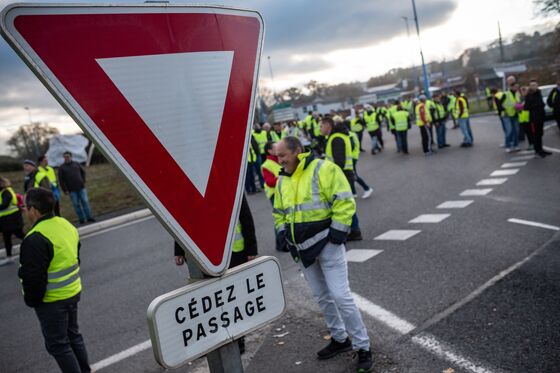 Macron said Wednesday he "hears the anger" but said he was "wary because many different people are trying to piggyback on this movement." In earlier interviews, he has said he prefers taxing fuel to taxing labor.
The government increased fuel taxes this year and will add another 6.5 cents per liter to diesel and 2.9 cents per liter to gasoline at the start of 2019, as it tries to bring diesel and gasoline taxes in line.