Private Equity Rushes In to End Shale Drillers' Water Torture
(Bloomberg) -- Drillers in America's most prolific shale basins have a $34 billion headache that private equity wants to provide a cure for.
Over the past year, private equity-backed newcomers have stormed into the nation's oilfields in a quest to build a vast new network of pipelines to help drillers handle the more than 16 million barrels of water a day produced by fracking in the Permian Basin alone.
In just the last six months, WaterBridge Resources LLC, backed by the private equity firm Five Point Energy LLC, has taken over water pipelines and disposal wells in the Permian from Concho Resources Inc., Halcon Resources Corp. and NGL Energy Partners LP. In North Dakota, meanwhile, Hess Corp. teamed with private equity giant Global Infrastructure Partners to spin off its water unit into a separate entity.
"In the Permian alone, there's a market for half-a-dozen new billion-dollar companies in the midstream water space," said Steve Coffee, president of the Produced Water Society, by telephone. "There's tons of these billion-dollar deals to be made."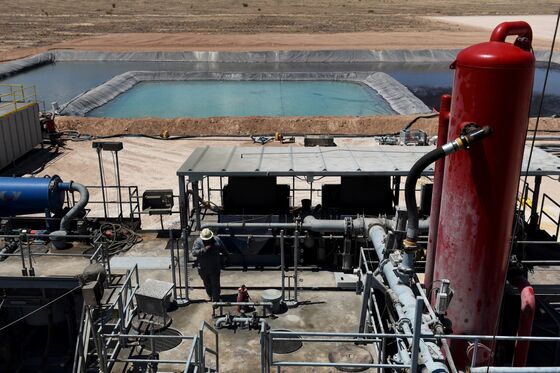 When a driller fracks a well in the Permian, it can produce 5 gallons of water for every gallon of oil extracted from shale rock. After the fracking is completed, that water has to go somewhere. The next step: Moving it to a disposal well to be pumped back into the Earth. That's where the new pipelines come in.
About 20 percent of wastewater produced by the top 10 explorers in the Permian is now outsourced to companies like WaterBridge and Tailwater Capital-backed Goodnight Midstream LLC, while the rest is handled by the drillers themselves. But that could grow to about 50 percent as early as next year, according to Chris Hapchuk, an analyst at East Daley Capital Advisors.
The idea is to grow the wastewater transport business into an intricate web that resembles today's oil and gas pipeline network, said David Capobianco, chief executive officer of Five Point Energy. More than half of WaterBridge's growth involves physically building the infrastructure behind that system, while the rest comes from buying up operator-owned pipes and disposal wells, he said.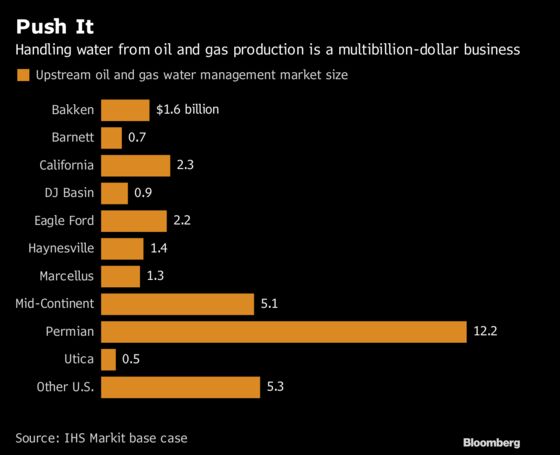 The U.S. oil and gas industry spent $34 billion on water management in 2018, with $12 billion of that spent in the Permian, according to industry consultant IHS Markit. The West Texas and New Mexico shale play is growing so fast that water management spending there is forecast to grow to $19 billion in 2023.
As producers outsource their water handling in an effort to appease investors wary of superfluous spending, the deals will keep on coming, said Patrick Walker, CEO of Goodnight Midstream.
"We've got three times the volume and 1/10th the number of competitors," compared with private equity teams going after oil and gas gathering pipelines, Walker said. "It's a good place to be."
Despite a recent plunge in oil prices, production in the Permian is still expected to grow. And as long as oil (and therefore water) output is ramping up, explorers will be looking for ways to offload the handling of their wastewater, said Lytch Gutmann, a partner at Houston law firm Bracewell LLP who advised Halcon and Concho on their deals with WaterBridge.
"Producers have historically dealt with that themselves kind of out of sheer necessity and bought or acquired pipelines, disposal wells," she said. "But those aren't their core assets. They're really to support the producers' oil and gas assets."
Enter water midstream companies, buying up an explorer's water business, usually for a price in the low- to mid-hundred million dollars. Then, for a fee, they'll get rid of their wastewater – laden with salt and chemicals from the fracking process – or, less commonly, they'll treat the water and send it back to the driller to be re-used.
As Wall Street pressures producers to spend less, "there's a growing push to see some of those deals happen where water infrastructure moves into the hands of water infrastructure players," said Bill Zartler, CEO of Solaris Water Midstream LLC, which has funding from Trilantic Capital. He said his company does business with 15-20 producers, most of which are considered "big players."
Private equity found a home in this niche industry at a time when public investors are shunning oil and gas companies -- both the producers responsible for extracting the product and the pipeline companies tasked with shuttling supply to customers. NGL Energy Partners is the only public midstream company to have a sizable water footprint, and it's been selling off some of its assets to private equity-backed players.
"We're not in a time in the public market space where companies are rewarded for creativity," Five Point's Capobianco said.
While there's already been a rush of investment in the water space, it's really just the beginning, said James Lee, an executive managing director at Riveron Consulting LLC who advises private equity firms interested in wastewater handling.
"The sheer volume of water boggles the mind," he said. "We'll be talking about this issue for several years."