Private Credit Lenders Aren't Sweating as Much as Buyout Firms
(Bloomberg) -- The sky-high valuations that private-equity firms have paid lately for takeovers are sending waves of anxiety through the industry. But some of their key lenders aren't sweating, convinced that the math actually works better for them.
Purchases at high price tags are being funded increasingly with equity -- as much as 80% of the overall valuation in some situations -- putting PE firms at greater risk of missing their return targets. 
For the direct lenders they borrow from, though, that's a good thing because if deals sour the equity that buyout firms kick in will get hit first. The loans provided by private credit lenders, meanwhile, are typically secured against the company's assets and are therefore higher in the pecking order to be repaid if a business runs into trouble.
"These guys are paying 20, 30 times Ebitda. Those are big multiples. Very often we'll run their equity case and we actually can't work out how they are going to make their returns," Anthony Fobel, chief executive officer of private credit firm Arcmont Asset Management, said while chairing a panel discussion at the SuperReturn event in Berlin last month.
"But we sit there and think, 'Well, we're fine, we might be at five or six times leverage,'" he added. 
Astronomical valuations were one of the big talking points at SuperReturn. Apollo Global Management Inc. Co-President Scott Kleinman said record-low interest rates are causing a "collective delusion" on deal valuations, while Allstate Investments Managing Principal Sarah Farrell said deal multiples have gone "bananas."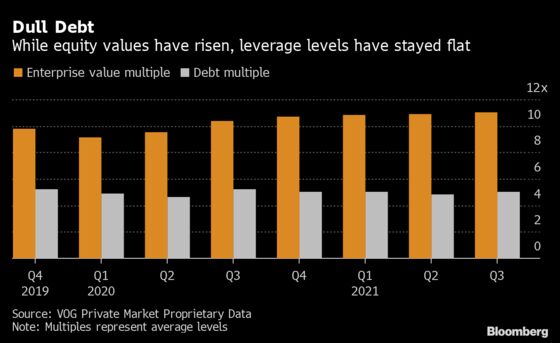 Higher enterprise value multiples means that equity cushions remain above the three-year average of 49.2%, according to investment bank Lincoln International. Still, direct lenders have to consider a PE firm's ability to grow earnings and exit investments -- through either a public listing or sale -- at an even higher valuation down the road and subsequently pay the debt back with those proceeds.
"We need to be comfortable that at some point they can exit those businesses. And who knows where the markets are going to be three to five years from now?" Stephan Caron, head of European private credit at BlackRock Inc., said in an interview this week. "Effectively you need to get comfortable that they can continue to generate Ebitda growth."
And there are some signs that lending is getting riskier. Private credit funds, flush with cash and competing more intensely to win lending business, are increasingly giving up key safeguards that protect them in tougher times. Such funds raised a record $87 billion in the first half of the year, and added another $41 billion in the third quarter, according to data provider Preqin Ltd. 
"The upper middle market and the sponsor-driven market is sort of back to pre-pandemic craziness," said Gregory Racz, president and co-founder of direct lender MGG Investment Group. "It's highly levered, cov-lite, low rate, with very few, if any, real lender protections."
In some ways lenders face similar problems to sponsors: What do they do with all their dry powder? Some have sought to launch funds that invest in riskier loans and offer juicier returns. Ares Management Corp., for example, raised more than $5 billion for its second junior lending fund in October. Riskier subordinated or mezzanine financing is also seen as attractive from a yield perspective. 
"If you move down in the capital structure we think that subordinated debt capital is actually a pretty interesting place to play," Matthieu Boulanger, a partner at KKR & Co.'s credit division, said in Berlin. "Even if you normalize for across the cycle valuations, you probably still have 40%, 45% equity beneath you in big stable businesses, right? So it feels pretty good."
Following are some of November's private credit deals:
Wealth Management Platform FNZ Gets 1.5 Billion Pound Unitranche
Golub Provides $1.52 Billion Unitranche Facility for Parts Town
Risk Strategies Co. Boosts Unitranche to $2.8 Billion via Golub
LAUNCH: Tank Holding Corp $1.685b Unitranche for Div Recap
Private Debt is Better Loved After Covid, Arcmont's Fobel Says
Ares' Credit Focus May Accelerate Its Share in Private Debt
Blackstone Starts Structured-Finance Unit in a $50 Billion Push