An $8 Billion Credit Shop Found Success in America's Heartland
(Bloomberg) -- The front row of a 9 a.m. corporate finance lecture isn't where most people expect to meet a romantic and professional partner.
But after Angie and Chris Long sat beside each other in Princeton University's McCosh Hall in 1995, they landed jobs at JPMorgan Chase & Co., got married and now run an investment firm that's among the fastest growing in Wall Street's hottest debt market.
Their Palmer Square Capital Management has amassed almost $8 billion of assets in less than a decade, capitalizing on ravenous demand for corporate loans bundled into bonds. That the firm is run by a married couple isn't the only fact that sets it apart: The 29-person outfit is based more than 1,000 miles from Wall Street in Mission Woods, Kansas.
"It's central to who Palmer Square is," said Chris Long, the president and founder. "You get people that really want to grow their careers in the Midwest, they really want to be part of a growing enterprise."
Palmer Square's 2013 move into managing collateralized loan obligations underpinned much of that growth, with assets under management surging 69 percent this year through October.
But a market slowdown may be coming.
Apollo Global Management co-founder Leon Black warned this month that credit markets "have gone to bubble status."
The quality of leveraged loans, the building blocks of CLOs, is eroding, and prices are tumbling. Loan prices have dropped to the lowest in more than two years, and deals for corporate issuers are increasingly being shelved. Sales of CLOs declined 25 percent in the first half of December from the same period last year, after falling 10 percent in November.
"A smart loan buyer who has been around a long time would find a lot of things would bother them about today's deals," said Berkin Kologlu, a senior portfolio manager at Angel Oak Capital, which has invested with Palmer Square. "It will probably result in a lot of downgrades, and a pickup in defaults at some stage."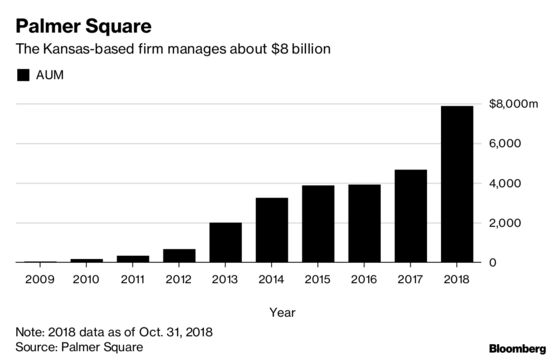 The Longs agree there are some signs of stress in the market and say they've passed on plenty of new issuance. But they argue Palmer Square's conservative approach means it's well-positioned to pounce when opportunities arise.
"Our base case long view is that if and when we go into the next cycle, it's likely to be longer than it was the last time, because the last time it was precipitated by the financial crisis and this is likely to be a credit crisis," Angie Long said. "The real challenge is to do a better job picking companies that don't default, and if they do default, they recover higher than the market average."
From their office, with views across the state line into Missouri, Chris, 43, focuses on managing the business. Two seats away, Angie, 44, is responsible for asset selection as chief investment officer.
"You have somebody in each role that you implicitly trust," Chris said.
"Culturally, we're 100 percent on the same page," Angie said. "That's one of the reasons it works so well."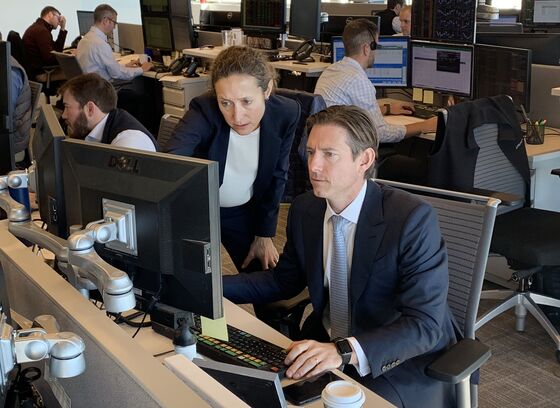 The bulk of Palmer Square's business is overseeing collateralized loan obligations, bundles of debt backed by corporate loans. CLOs account for about $5.2 billion of the firm's assets.
The firm -- already investing in CLOs -- started managing them in 2013, making it among the first of a new wave of managers to do so in the wake of the financial crisis. It's the fourth-biggest CLO issuer this year at $3.5 billion, according to data compiled by Bloomberg News.
Palmer Square says it's starting to expand internationally as the firm seeks investors in Japan and other parts of Asia, and that it has reached a wider investor base thanks to the introduction of a simplified CLO. The products, known as static CLOs, are popular because they have shorter lifespans and investors know what loans they contain from the start.
Chris founded Palmer Square in 2009, with about $10 million and the economy in the throes of a credit crunch. Angie, a JPMorgan prop trader who counts Blythe Masters as a mentor, left the New York-based bank to join him two years later.
Angie, an All-American rugby player at Princeton, was a managing director for JPMorgan by the time she was 29. Over 13 years, her roles included head of credit derivatives trading. Chris took a different route, leaving the bank after a couple of years to join a private equity fund before attending Harvard Business School.
Angie, a Kansas native, kept a ruby slipper on her desk in New York as a reminder of home. The couple returned to the Sunflower State in 2006 but that didn't mean they were leaving Wall Street behind. Angie continued as a senior prop trader with JPMorgan and Chris worked at Prairie Capital Management.
With the financial crisis in full swing, Chris started Palmer Square -- named after the public square in the heart of Princeton, New Jersey -- to take advantage of opportunities in dislocated credit markets. He started out largely self-funded, and within a few months was introduced to the Bicknell family, which was flush with cash after selling NPC International Inc., the world's largest Pizza Hut franchisee, for about $615 million in 2006. Not only did the Bicknells invest with Chris, they took a controlling stake in Palmer Square.
The relationship came full circle this year, with the Longs agreeing to buy out the Bicknells. The deal is expected to be completed by year-end.
"It's going to be a seminal event for us as a firm," Chris Long said.