Pricier Ice Cream in Japan Is Sweet News for Investors and BOJ
(Bloomberg) -- It's not quite a sugar rush, but a plan to raise ice cream prices in Japan is boosting hopes for investors in food company stocks, and may satisfy the cravings of government officials.
The news bolstered shares of Japanese dairy and snack purveyors on speculation other companies will follow suit. Morinaga Milk Industry Co., Meiji Holdings Co., and Megmilk Snow Brand Co. all rose more than 4 percent in early Tokyo trading Friday.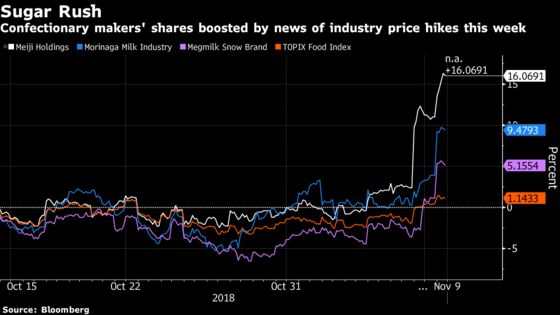 "The decision by the top firm in the ice cream industry to hike prices makes it easy for others to follow," SMBC Nikko analyst Naomi Takagi wrote in a note to investors Thursday.
The increases, which were the result of higher manufacturing costs, may also be good news for the Bank of Japan. Central bank Governor Haruhiko Kuroda has been frustrated by companies' reluctance to raise prices, with inflation at only half the pace targeted by the BOJ.