Chile's President Washes His Hands of Blame for Nation's Credit Downgrade
(Bloomberg) -- President Sebastian Pinera wanted to make one thing perfectly clear about Moody's Investors Service's decision to downgrade Chile's credit rating: It's not my fault.
"The reaction of the rating agency is due to things that happened in previous years," Pinera, who took office March 11, told reporters Friday. "As you well know, our government is correcting those reasons."
Moody's reduced Chile's senior unsecured debt ratings to A1 from Aa3, citing a gradual and broad-based deterioration in the country's credit profile. Public debt has more than doubled to 23.6 percent of gross domestic product in the past eight years, while social pressures to improve education and health-care pose a "major challenge" to any attempt to restrain fiscal spending.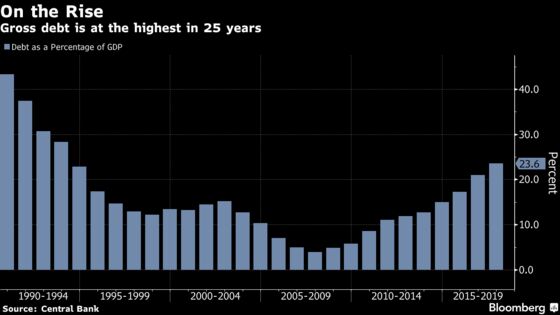 Despite those pressures, Pinera was adamant that Chile would stabilize debt levels.
"You know the commitments we have made, reducing the fiscal deficit and stabilizing the level of public debt," the president said today. "Our intention, and this won't happen immediately, is to recover the risk classification we have lost."
Standard & Poor's Global Ratings and Fitch Ratings both downgraded Chile last year as the budget deficit widened, fiscal expenditure increased and economic growth slowed. Finance Minister Felipe Larrain has pledged to narrow the deficit as he seeks to reverse the rating downgrade within four years.
Chile "is paying the consequences for the fiscal deterioration and slow growth over the past four years," Larrain said Thursday. He met with Moody's in April and June and obviously failed to persuade them that he was doing enough to turn the situation around.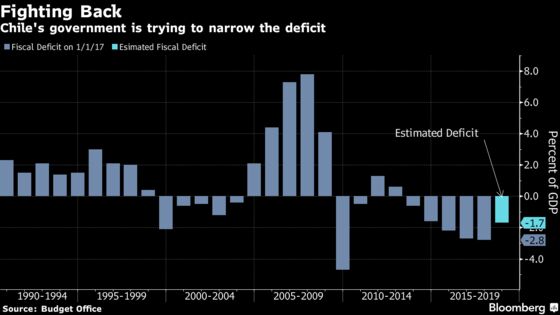 Moody's said it expected Larrain to improve the situation, but it is unclear whether it will be enough to regain Chile's risk rating.
"Debt metrics are likely to stabilize, but a reversal in the deterioration of fiscal and debt metrics is unlikely," Moody's said. "Low income levels relative to Aa-rated peers, dependence on commodities and external vulnerabilities have also become more salient aspects of Chile's credit profile given lower medium-term growth prospects."