Premium Pickups Are Intruding on America's Luxury-Car Market
(Bloomberg) -- Luxury-car makers are contending with an unlikely adversary in the U.S. auto market: Detroit's hulking, high-end pickups.
For years, Ford Motor Co., General Motors Co. and Fiat Chrysler Automobiles NV have been stuffing their trucks with opulence including two-tone leather, wooden accents and ventilated seats in a bid to push price tags on their most profitable product lines toward six-figure territory. All those bells and whistles may be starting to nibble at the luxury market that Daimler AG still leads, though only by a nose after a steep drop in August.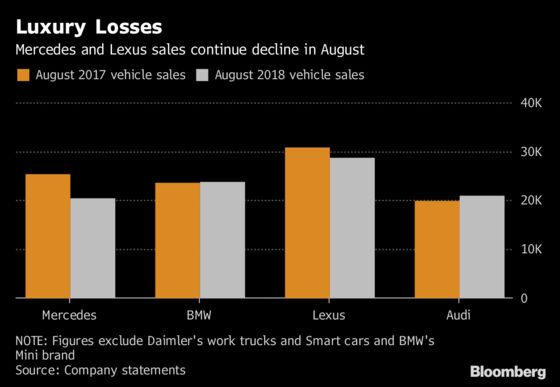 About 13 percent of F-150 buyers traded in a luxury vehicle when making their pickup purchase in the first seven months of 2018, compared with just 11 percent five years ago, according to Edmunds. The GMC Sierra and Chevrolet Silverado also are picking off more premium buyers, with trade-in rates rising to 15 percent and 9 percent, respectively, according to the car-shopping researcher.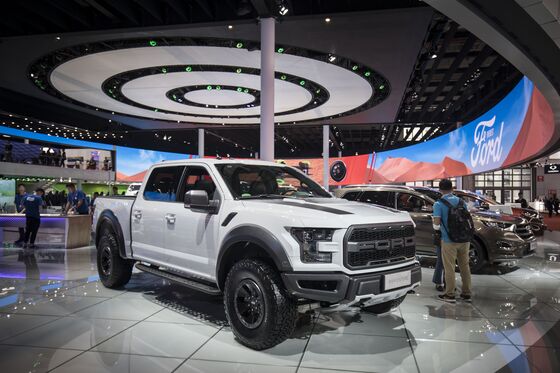 The high-end large truck segment "isn't new, but it's evolved to the point where it's actually catching eyeballs from a completely different swath of owners," said Ivan Drury, a senior analyst at Edmunds. That's bad news for traditional luxury-car makers, since "one of the main tenets of truck sales is, once you get a truck owner, they have very high odds of never leaving."
Luxury pickups used to be the provenance of construction-company owners or contractors who wanted to distinguish themselves from the rest of work fleet, said Jim Morrison, the head of Fiat Chrysler's Ram division. Now, he says his brand is luring away owners of large SUVs from the likes of BMW, GM's Cadillac and Toyota Motor Corp.'s Lexus.
"We are totally changing that paradigm of what people are coming to the trucks for," Morrison said in a phone interview last month. "Now, it's a truck people can use everyday as a commuter vehicle. Put your kids in it on the weekend or everyday, whether you're going to the grocery store or camping with your family, or hauling your $100,000 boat to the Hamptons."
The Limited version of the 2019 Ram 1500 -- which boasts a 12-inch touch screen and a hand-tooled leather interior -- tops out at about $70,000, according to a company spokesman.
While Ram's share of luxury trade-ins has been roughly flat over the last five years at around 9 percent, according to Edmunds, Drury attributes this in part to the challenges the brand has had with ramping up output of its new 2019 models.
While Ford's F-Series had its best August since 2005 and Ram pickup deliveries soared 33 percent, luxury brands had more of a mixed month. Sales for Daimler's Mercedes-Benz, the top-volume U.S. luxury line for the last two years, plunged 20 percent in August, the third straight month of declines. A 23 percent drop in deliveries of C-Class sedans and 34 percent plunge for the GLA compact crossover deliveries weighed on results.
Lexus sales slipped for a sixth straight month, as SUV deliveries were flat and luxury sedan sales dropped 20 percent. BMW mustered a 1 percent gain, driven by its diminutive X1 and X2 models. Volkswagen AG's Audi brand continued this year's growth streak, with a 5.5 percent bump in August.