Prayer, Guns Paved Path to GOP Influence for Accused Russian
(Bloomberg) -- As a Russian seeking to ingratiate herself in the U.S. political world, Mariia Butina zeroed in on two pillars of the conservative establishment: gun rights activists and religious groups.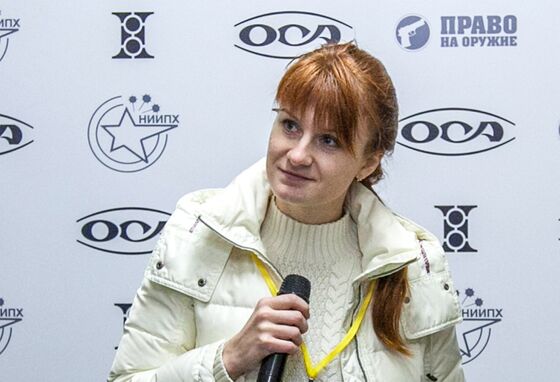 She worked as an assistant to Russian President Vladimir Putin's ally Alexander Torshin, and together they befriended leaders of the National Rifle Association and organizers of the National Prayer Breakfast during the last election cycle, according to an affidavit released Monday in federal court.
On the way to building influence in the U.S. government, Butina and Torshin made connections with several political figures in the Republican firmament. Although the government's case didn't cite anyone by name other than Butina, much is known about the two Russians' work.
They met with Wisconsin Governor Scott Walker, at least one member of Congress and Donald Trump Jr. John Bolton, who would go on to become national security adviser to President Donald Trump, appeared in a video for Butina's Russian gun-rights group, lobbying the Russian government to relax its gun-control laws.
Even before the Republican nomination was decided, they secured 10 seats for prominent Russians close to Putin to attend the 2017 National Prayer Breakfast in Washington, according to the government's case. Their work to establish a back channel between the Kremlin and Republican politicians progressed far enough, prosecutors noted, that she passed information to Moscow about who might be chosen as U.S. secretary of state and took unsuccessful steps to arrange a secret meeting between Donald Trump and Putin during the campaign.
Butina, 29, came to the U.S. on a student visa and was accused after her arrest on Sunday of failing to register as an agent of a foreign government. The investigation, which began before Robert Mueller was brought on as special counsel in May 2017, is being handled by the Justice Department's national security unit.
Although U.S. authorities described broad efforts to infiltrate the political system, the charge against Butina was narrow. That fueled speculation about the potential reasons -- a rush because she was planning to leave the area, a desire to protect intelligence sources, or an effort by federal prosecutors to pressure her into cooperating against others, including Torshin, who was placed under U.S. sanctions in April.
Mimi Rocah, a former federal prosecutor, said it's likely that the FBI and Justice Department had to move quickly to arrest Butina, adding that narrow charges could be useful to avoid tipping off others. "It could be that the plan was not to charge just one person, but that was what they were pushed into," Rocah said. "That's a very likely scenario, and it suggests there are more charges to come against her and others."
The U.S. followed up Tuesday with an indictment in Washington that charged Butina with acting as an unregistered Russian agent and conspiring to do so.
Two Americans who played key roles in Butina's efforts weren't named in the court documents. Butina's most extensive interactions involved a political operative prosecutors referred to as Person No. 1, with whom Butina established contact in Moscow in 2013.
Descriptions of that person and his communications line up with those of Paul Erickson, 57, a former board member of the powerful American Conservative Union. A South Dakota resident, Erickson was reportedly in Russia in 2013 for a convention for the gun rights group that Butina co-founded, The Right to Bear Arms. Erickson didn't respond to calls and messages seeking comment.
Butina emailed the person believed to be Erickson in late March 2015, saying she wanted to make inroads at the NRA to help Republicans in the 2016 elections and improve U.S. Russia relations. The subject line -- "The Second Pozner" -- seemed to be a reference to KGB propagandist Vladimir Pozner, who was billed to 1980s American TV audiences as a bridge-building Soviet journalist.
Erickson was an NRA member with decades' worth of contacts in conservative political circles. In the narrative laid out by prosecutors, the person believed to be Erickson agreed to help introduce Butina to influential politicians, activists, business leaders, media personalities and NRA figures. "You could NOT do better than the list I just emailed you," he wrote to Butina in March 2015. The two worked to arrange "friendship and dialogue" meetings with conservative religious leaders and political figures.
A month before the election, the person believed to be Erickson boasted to an acquaintance by email that he had helped set up a "VERY private line of communication between the Kremlin" and key NRA officials. The message's contents were included in the court case, which drew evidence from a laptop and iPhone that were seized earlier from Butina.
Butina's lawyer, Robert Neil Driscoll, said that the charges were overstated.
"Maria Butina is not an agent of the Russian Federation," Driscoll wrote in a statement, adding that arranging dinners and making friends were being mischaracterized as nefarious. "There is simply no indication of Butina seeking to influence or undermine any specific policy or law."
Email messages about the U.S. political contacts Butina would present to the Russian official, Torshin, also circulated to a second American who prosecutors identified only as U.S. Person 2. That individual hasn't been identified.
Butina, in one email, thanked that person for helping arrange a series of dinners in Washington and New York starting in May 2016 involving Russian nationals and politically influential Americans.
Torshin "was very much impressed by you," Butina writes. "The Russians will support the efforts from our side."
The relationship between the Russian official and Butina was tender, according to at-times lyrical electronic messages quoted in the U.S. filings. Torshin, a deputy governor of Russia's central bank, is a former Russian senator belonging to Putin's political party who is allegedly tied to the Russian mob world. In Twitter messages cited by prosecutors, he encourages Butina, calling her a rising "political star." She asks for his mentorship in their effort to "advance Moscow's long-term strategic objectives" in the U.S.
Torshin's Twitter postings dating back as far as 2012 show the young red-maned Butina shooting guns, holding a baby, and, on more than one occasion, clasping long-stemmed lilies. The two were reportedly introduced through Butina's work attempting to expand gun rights in Russia. They lobbied the Russian senate together for gun rights -- a curious push in Russia, which offers no constitutional support for arming its citizenry and has been wary of letting them become gun owners.
In 2013, Butina began making overtures to NRA members. Her group's Facebook page includes a photograph of Torshin and Butina at the 2013 Moscow conference with Americans including then NRA-president David Keene, beneath a red and white banner reading, in imperfect English, "Welcome to Russia comrads." The next year she attended a handful of NRA events in the U.S. Both she and Torshin became lifetime NRA members.
Federal officials are investigating whether Russia funneled illegal foreign campaign contributions to Republicans using the NRA, according to some members of congressional intelligence committees. Representatives for the NRA didn't respond to requests for comment. Keene couldn't be reached.
According to her social media posts, Butina expressed enthusiasm in 2015 for Walker, the Wisconsin governor, posing for pictures with him at the NRA's annual convention and attending Walker's announcement that he would seek the Republican presidential nomination. That same year, according to prosecutors, she and the person believed to be Erickson communicated about what he called her "special project" to build a Russian bridge to U.S. political figures.
Walker hasn't been contacted by authorities and isn't in the complaint, according to Brian Reisinger, a spokesman. He appeared in public at the NRA convention where thousands of people could greet him and take photos but he had no meeting, Reisinger said.
Erickson and Butina co-founded a company named Bridges LLC in South Dakota in 2016, according to public records. Its business purpose is unclear. In an interview with McClatchy News, Erickson has said the business was intended to pay college costs for Butina, who has been studying at American University.
Erickson and Butina also made periodic social appearances together. At her birthday party in November 2016, three days after Trump won the presidency, she came dressed as the Russian Empress Alexandra, with Erickson as Rasputin, according to media reports.
Yet as Erickson provided lists of political contacts to Butina in 2015, he also urged her to keep a low profile in the U.S., according to the court documents.
She appeared to have disregarded that advice at least once. In July 2015, Butina attended the annual Freedom Fest in Las Vegas, where candidate Trump was a featured speaker. During a question-and-answer session, Butina asked Trump whether he would continue the sanctions the Obama administration put in place following Russian's invasion of Crimea. The question sparked a criticism of Obama followed by a now-oft-replayed clip: "I believe I would get along very nicely with Putin," Trump said.
The recently filed U.S. documents also refer to "email strings" between Butina and others, suggesting that prosecutors have access to additional communications.
The New York Times previously reported that in May 2016, Erickson emailed a Trump campaign aide with the subject line "Kremlin Connection." The recipient of that email has been reported to be Rick Dearborn, who was also an adviser to then-Senator Jeff Sessions.
Erickson told Dearborn that Russia was "quietly but actively seeking a dialogue with the U.S." and suggested that an NRA convention to be held in Kentucky that month would be a venue to begin discussions between the Trump campaign and "Putin's emissary." Other activists tried to arrange a meeting between Trump and Torshin at the NRA convention, but Jared Kushner, then a top campaign aide to Trump, vetoed the idea, the Times reported.
Torshin did attend a dinner during the convention with Donald Trump Jr., who has since described the encounter as uneventful.
In October 2016, when the elder Trump was trailing in the polls, Torshin wrote Butina a message trying to boost her spirits.
"It is not about winning today's fight (though we are striving for it) but to win the entire battle," Torshin wrote in a Twitter direct message, according to the complaint. "This is the battle for the future, it cannot be lost!"
He added: "Patience and cold blood + faith in yourself. And everything will definitely turn out."
Butina also gained entry beginning in 2016 to the Nation Prayer Breakfast, a Washington gathering of religious leaders and conservative activists who wield significant influence in Republican politics. The person believed to be Erickson helped her gain access to the event, according to the affidavit.
Butina led a group of 12 Russians to see Trump speak at the breakfast in early February 2017, one of the newly inaugurated president's first public appearances. Torshin was at one point scheduled to meet with him, but that meeting was abruptly canceled after a member of the president's security detail realized that Torshin had been accused of money laundering by officials in Spain and is alleged to have ties to the Russian mob, according to a report in Yahoo News.
Butina also explored the possibility that Putin himself might attend the 2017 breakfast, according to the affidavit. It said Butina told breakfast organizers that the Russian president would consider attending only if 15 other world leaders accepted the president's personal invitation, which didn't happen.