PG&E Restores Power to 328,000 Customers: California Update
(Bloomberg) -- Powerful Santa Ana winds are easing in Southern California after fanning wildfires and prompting blackouts as utilities fought to prevent live wires from sparking more. Edison International and Sempra Energy are preparing to wrap up their outages after leaving more than 300,000 people in the dark.
In Northern California, PG&E has restored power to nearly all its customers blacked out earlier this week. Still, at least 10 large wildfires are burning across the state. Time stamps are New York time.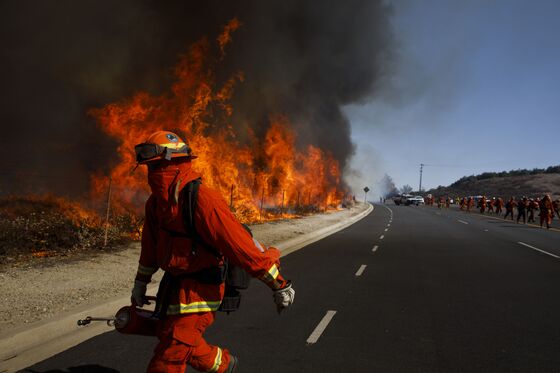 PG&E Restores Power to 328,000 Customers (3:13 p.m.)
PG&E Corp. has restored power to about 328,000 customers since a blackout that began on Oct. 29, according to a company statement.
Fewer than 37,000 customers that were affected by the deliberate shutoffs remain in the dark, the company said. In the south, Edison International and Sempra Energy have about 76,000 customers without power.
Sprawling Fire in Sonoma County 60% Contained (2:15 p.m.)
The massive blaze north of San Francisco that forced 200,000 people to flee their homes is now 60% contained, according to California's state fire agency. The blaze in Sonoma County, called the Kincade fire, has ripped through nearly 77,000 acres of vineyards and countryside, destroying about 280 structures.
Meanwhile, blackouts are ebbing statewide. PG&E said it has restored power to 95% of customer impacted by its most recent shutoff in Northern California, leaving 53,000 homes and businesses without electricity. In the south, Edison International and Sempra Energy have about 76,000 customers still dark.
"We are turning the corner," Governor Gavin Newsom told reporters at a school in the foothills outside Sacramento that's power was cut Monday.
Edison Aims to End Its Blackout by End of Day (12:04 p.m.)
Edison, whose outages near Los Angeles peaked overnight at about 87,000 homes and businesses, plans to restore power to most of its customers by the end of Thursday. As of 11:30, about 73,000 were without power in six counties.
Restoring power to everyone may take longer in some areas, Edison spokesman Robert Laffoon-Villegas said in a telephone interview. "It may be into tomorrow if there are any repairs that need to be conducted," he said. "Obviously, we're going one circuit at a time."
The windstorm, meanwhile, is ebbing after gusts surged as high as 78 miles (126 kilometers) per hour Wednesday in Ventura County. "We expected it to be fairly substantial, and it was," Laffoon-Villegas said.
Smoke From One Wildfire Rivals 320,000 Cars (11:34 a.m.)
Wildfires are burning a gaping hole in California's effort to fight climate change.
Take the Kincade fire raging north of San Francisco. It's already spewed enough smoke to rival the annual tail-pipe emissions of 320,000 automobiles, according to preliminary estimates from the U.S. Forest Service. And it's just one of nearly a dozen major blazes burning statewide.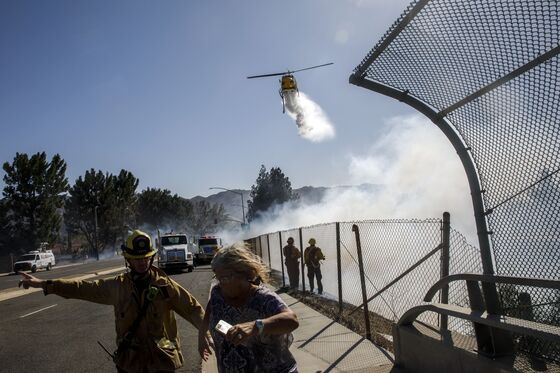 That poses a huge problem for California, which has some of the most ambitious goals anywhere to cut greenhouse gases. Even as the state aggressively promotes electric cars and forces new homes to install solar panels starting next year, smoke from wildfires is offsetting many of its emissions cuts.
Many in Los Angeles Allowed to Go Home as Risk Ebbs (10 a.m.)
Officials have lifted evacuation orders for the Hill Fire that burned more than 600 acres in Riverside County and most of the Getty Fire in Los Angeles, which forced celebrities including LeBron James and Arnold Schwarzenegger to flee.
In Ventura County, 700 firefighters continue to battle the Easy Fire which expanded to 1,723 acres by dawn Thursday. Mandatory evacuations remained in place for a section of Ventura County that's still burning and a reduced area for the Getty fire that destroyed 12 homes and damaged another five.
Calm Coming After Days of Extreme Winds and Fire Risk (9 a.m.)
The dangerous winds sweeping across California are dying down, in a relief to residents roiled by wildfires, power blackouts and evacuations.
Whipping gusts that have raised fire risks may last only through Thursday, after which such extreme conditions are unlikely though the end of next week. The dry air that can turn grasses and brush into fuel will last much longer though.
Powerful winds have disrupted life across the Golden State in October. With utilities deliberately blacking out customers and wildfires raging, millions of people have lost power and businesses have been forced to shut, as have schools.