Power's Plunge Boosts Nordic Miners and Divides Central Bankers
(Bloomberg) -- The worst start to the year for Nordic electricity prices in more than a decade is delighting consumers, dividing central bankers and hurting utilities.
Nordic futures have plunged by more than half this year, outpacing declines in everything from oil to U.S. natural gas and agricultural commodities. The impact of that economic tailwind is likely to grow in the coming years as governments in the region push to electrify everything from cars to industry as a way of slashing greenhouse gas pollution.
The rout is caused by the warmest and wettest winter most people can remember. While the absence of a prolonged cold snap in the Northern Hemisphere also hit markets from Asia to the U.S., Nordic prices fared worse than most because rain filled reservoirs that are already the region's biggest source of electricity.
"During my 25 years in the market I've never seen anything like this," said Fredrik Bodecker, a former trader and founder of Bodecker Partners AB, which advises companies on energy risk management. "We have gone from a deficit to a massive surplus in an incredibly short period of time. Prices can go even lower."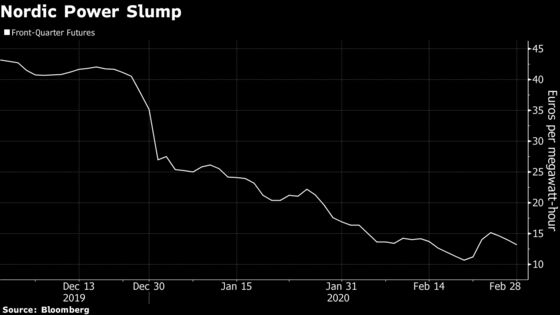 The slump is good news for everyone from miners, smelters and paper companies because electricity is a significant chunk of their costs. Although they've already sold much of the power they need in advance at higher prices, it will hurt earnings at generators, according to analysts from Goldman Sachs Group Inc. to Bloomberg Intelligence.
And prices could fall further as the coronavirus hammers demand and sends global energy and commodity markets into free fall.
"Corona worry and falling fuel costs have already made the situation worse and sent prices beyond 2020 lower," said Christian Holtz, an analyst at Sweco Energy AB.
Nordic electricity tend to be more volatile than most raw materials just because they are so dependent on rain and snow. The plunge this year has made it all the way to the executive board of the Riksbank in Stockholm.
After leaving negative rates behind in December after half a decade, the biggest Nordic economy is well short of its 2% inflation target and the power slump has only made that more difficult to grasp. Governor Stefan Ingves said after February's rate-setting meeting that "it's very difficult to adjust monetary policy to weather forecasts."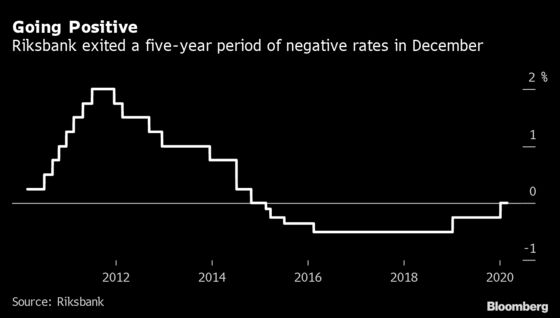 But according to minutes from the bank's Feb. 11 meeting, his deputy Martin Floden said "it's not entirely easy to disregard the low energy prices when inflationary pressures are already weak." Johanna Jeansson, a Bloomberg economist, says the board is now in a wait-and-see mode.
For the region's miners and metal producers, the slump provides a window to secure power in advance at lower prices, according to Maria Suner Fleming, head of industry group Svemin.
"If you're buying electricity on the spot market, it's a fantastic situation," said Kubikenborg Aluminium AB, Sweden's only primary aluminium producer. Power makes up about a third of the production costs for the facility, which is owned by United Co. Rusal, formerly controlled by Russian billionaire Oleg Deripaska. Kubal buys electricity on the region's Nord Pool exchange via a broker.
For Boliden AB, which operates mines and smelters in Sweden and Finland, electricity represent about 15 to 20% of production costs, said Mats Gustavsson, director of energy. Lower prices are always good, but swings are an increasing worry as more machines run on power instead of fossil fuels, he said.
Stora Enso Oyj of Finland, which makes everything from pulp to wood cladding for buildings, noted the positive impact too. But to take full advantage, an active approach to manage the risk that comes with the volatility is needed, said Esa Ukkonen, director for energy services.
In Denmark, cement maker Aalborg Portland Holding A/S is enjoying the lower rates, while at the same time bemoaning a jump in tariffs by the grid operator that's cutting into the profit.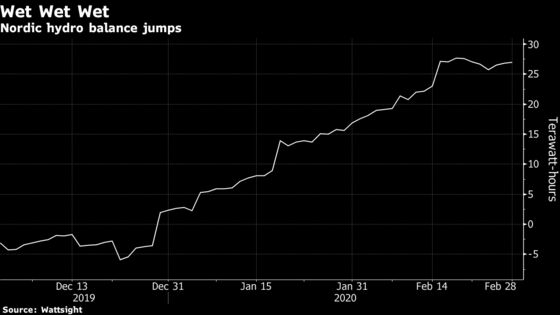 The fast expansion of wind power in Sweden has also helped to slash prices and increase volatility. As storm Ciara battered Europe last month, daily and hourly power prices plunged, with some hours in Sweden even turning negative for the first time, which means that consumers get paid to take the commodity off the grid.
That forced Forsmark 1, a nuclear reactor operated by Swedish utility Vattenfall AB, to curb output by 20% on Feb. 9-11.
"We will most likely get much more of these short-term output cuts in the future," said Arne Bergvik, head of analysis at Swedish utility Jamtkraft AB.
Vattenfall could have a negative EBITDA impact of about 18% because of the price slump, according to Bloomberg Intelligence analyst Elchin Mammadov in London. For Finnish utility Fortum Oyj that could be as much as 28% and 13% for Norway's Statkraft AS. His estimates includes several assumptions, including an increase in hydro production.
Vattenfall had hedged 65% of its Nordic 2020 volume by the end of last year. The company is mitigating the risk for the remainder through high availability and low production costs, a spokesman said.
Fortum had sold as much as 75% of its 2020 power as of Dec. 31. That is "closer to the upper range of what we typically would have," Investment Relations Manager Mans Holmberg said.

Statkraft has also sold power in advance and said the slump is partly offset by increasing production, as well as large revenue from other activities outside the Nordic market. 

Marcus Annell, head of financial trading at the utility Bixia AB in Sweden, said prices are now close to reaching their floor, even though he warned that that the slowdown from the coronavirus could impact rates later in the year.
"Right now, everyone are glued to their screens waiting for the next forecast to see if we'll get drier weather," he said.