Power Company Says Its Model Can Withstand a Warmer World
(Bloomberg) -- AES Corp., a long-time builder of coal-fired power plants around the world, published a report Tuesday that projects how climate change could affect its business. The bottom line, the company says, is that its move away from carbon fuels means its business model holds up whether the world warms a lot or a little.
The report, which AES says is a first for its industry, comes after ValueAct Capital Partners LP took a stake in the utility company in January and the fund's CEO Jeff Ubben joined the board to help steer it further in a clean direction. The company also said it will cut the carbon intensity of its power fleet by 70 percent by 2030, deeper than its previous goal of a 50 percent decrease.
"The company is creatively applying technology to the problem of carbon emissions, providing a roadmap of sorts in the energy transition," Ubben said. Shares are up 45 percent since ValueAct revealed its position.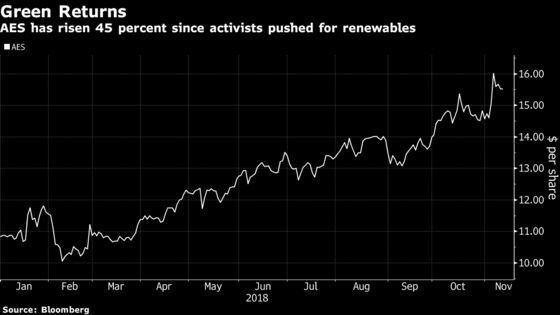 AES has already made progress on its stated clean energy goals. The company says the capacity of its solar, energy storage and natural gas-fired generators will rise from 55 percent to 71 percent through 2020. Coal-fired power will drop from 41 percent to 27 percent. In 2017, the company sold or retired almost one-third of its coal-fired capacity, according company filings.
"From a business point of view, I don't feel like I have sacrificed returns for my stockholders by taking on the risks posed by climate change," said AES Chief Executive Andres Gluski. "I think it's my fiduciary duty."
The results issued Tuesday also reflect a global push to get companies to factor climate analysis into their financial reporting. Specifically, AES said in April that it would adopt recommendations of the Task Force on Climate-related Financial Disclosures, or TCFD, which are the foundation of the new report. (Michael Bloomberg, founder of Bloomberg News parent company Bloomberg LP, serves as TCFD chairman.)
According to the report, the positive assessment shouldn't be read as a signal to investors. In the company's most recent 10-K, it acknowledges risks associated with the development and operation of its renewable energy investments, and with regulatory changes that could affect the bottom line.
The company also noted risks from elsewhere in the financial system, including institutions that may sour on high-carbon investments and credit ratings that could change because carbon policies bring higher compliance costs.