Powell's `Patience' Is Relief for Hong Kong as Pressures Mount
(Bloomberg) -- The Federal Reserve's signal that the pace of interest rate hikes this year will be cautious is respite for Hong Kong's economy.
Because the Asian finance hub pegs its currency to the dollar, Hong Kong effectively imports U.S. monetary policy. That means borrowing costs are expected to push higher in tandem with Fed rate hikes, pressuring a housing market that's already showing signs of strain.
But a slowing global economy has prompted Fed officials to reinforce a message that they will be careful about further moves after raising rates four times last year, and nine times in total since 2015.
"The Fed pause represents a reprieve for Hong Kong's economy to the extent that it removes the need for Hong Kong banks to further raise interest rates," said Ines Lam, an economist at CLSA Ltd.
The Federal Open Market Committee "will be patient as it determines what future adjustments to the target range for the federal funds rate may be appropriate to support" a strong labor market and inflation near 2 percent, the central bank said in a statement Wednesday following a two-day meeting in Washington.
While abundant liquidity has kept Hong Kong mortgage rates low--the prime rate has only risen once in the same period that the Fed hiked nine times--the more the Fed hikes, the greater the pressure on Hong Kong banks.
Notoriously the world's least affordable housing market, residential housing prices have fallen almost 10 percent from an August peak, figures from Centaline Property Agency Ltd. show. A looming vacancy tax on developers is among factors that have weighed on the city's property values.
"As the magnitude of the interest rate hikes gets smaller, the risks of worsening sentiment are thus lower too," said Tommy Wu, a senior economist at Oxford Economics.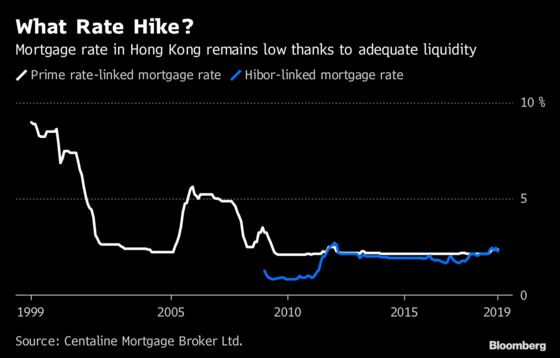 Some market watchers have already shifted to a more positive tone. Citigroup Inc. sees signs of prices bottoming in the next two months as buyers unleash pent-up demand. Morgan Stanley expects a 2 percent rise this year for the same reason.
Still, the economy already faces a lengthening worry list. The International Monetary Fund warned in its annual assessment that economic risks have tilted to the downside, forecasting growth to slow to 2.9 percent this year from an estimated 3.5 percent in 2018. Slowing global demand and the simmering U.S. and China trade war meant exports fell more than expected in December, the first time sales abroad have contracted in consecutive months since 2016.
Those headwinds are among reasons why the Fed will offer some respite, said Alicia Garcia Herrero, chief economist for Asia Pacific at Natixis SA in Hong Kong.
"A less hawkish Fed will mean a milder impact of an increasingly negative tone on asset prices, especially for housing prices," she said.