Powell's 'For Now' Caveat a Sign Fed Rate Hikes Not on Autopilot
(Bloomberg) -- Jerome Powell has a judgment to make on how hard monetary policy is biting down on the U.S. economy.
The signal came from two words: "for now," used by the Federal Reserve chairman as a caveat in his description on Tuesday of the central bank's plan to "keep gradually raising the federal funds rate."
His simple phrase in testimony before the Senate Banking Committee highlights the uncertainty facing the Fed as it gauges how high to raise rates as fiscal stimulus boosts growth, amid potential headwinds from an escalating trade war.
"This chair is trying to retain optionality and flexibility with all the uncertainty about fiscal policy's impact on long-term growth," said Priya Misra, head of global rates strategy at TD Securities in New York. "He is leaving the door open to slow down the pace of hikes or not hike beyond neutral."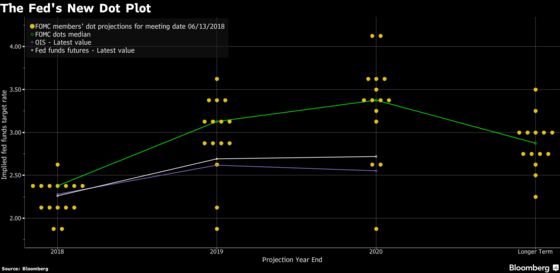 Investors heard the chairman loud and clear. The Standard and Poor's 500 index rose 0.4 percent to 2,810, while yields on U.S. 10-year notes were little changed at 2.86 percent.
The conditional description of the outlook for interest rates was a small but important check against the certainty sometimes falsely conveyed by the Fed's "dot plot," or the estimates that policy makers update every quarter on their expectations for future policy.
In June, officials signaled they thought monetary policy would need to become restrictive by the end of next year. They penciled in rates of 3.1 percent by end-2019, versus their 2.9 percent median estimate of the neutral rate which neither supports nor slows the economy. Rates were seen at 3.4 percent by the end of 2020.
Powell's "for now" reference "speaks to the idea that if the data starts to deteriorate, say because of trade tensions, they'll slow down," said Joseph Song, senior U.S. economist at Bank of America Corp in New York. "But it works the other way. The tax cuts potentially could be more stimulative and could lead to a faster pace of tightening."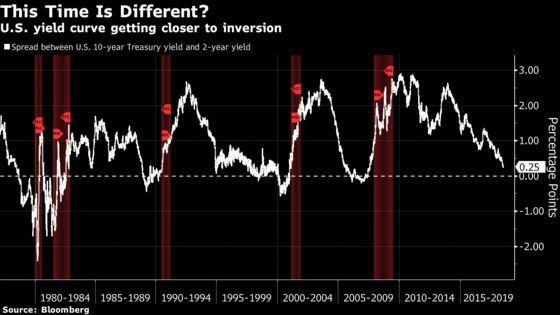 Several regional Fed presidents including Neel Kashkari of Minneapolis and Raphael Bostic of Atlanta have already warned about the Fed's need to avoid inverting the yield curve by hiking rates so that short-term borrowing costs rise above longer-term bond yields.
Powell, who will appear before the House Financial Services committee at 10 a.m. on Wednesday, said his interpretation of the narrowing spread between short- and longer-term rates is that it might be saying something about how close the Fed is to the neutral rate.
That judgment is a hard one to make in real time, and estimates of the neutral rate vary quite widely.
The Fed's July Monetary Policy Report, which it prepares as part of the chairman's semi-annual appearance before Congress, included a section on various policy models that produced estimates of neutral ranging from 0.1 percent to 1.8 percent in real terms. Adjusting for the Fed's 2 percent inflation target would put that range for neutral rates between 2.1 percent to 3.8 percent in nominal terms.
Officials often don't know if monetary policy is too tight or too loose until it's too late -- that is, when the economy's momentum starts to slow with rising unemployment, or when financial bubbles emerge.
With a couple of quarter-point hikes to go before the Fed enters the bottom of policy makers' own range of estimates for the neutral rate, which in June was 2.3 percent to 3.5 percent, Powell used his testimony on Tuesday to underscore that policy isn't on a preset path.
"'For now,' suggests that the recent Fed policy of raising rates a quarter point every quarter or so is not set in stone," Roberto Perli, a partner at Cornerstone Macro LLC and a former Fed staff economist, said in a note to clients. "One good reason for the Fed to slow down or even take a break is that the funds rate is approaching its present neutral level."