Powell as 'Santa Pause' May Appear Bearing Gifts: Taking Stock
(Bloomberg) -- So the Fed Chairman's nickname isn't a real one, but it's widely accepted now that the FOMC's communication strategy decidedly shifted the narrative enough to stem the December bleed in equities, enough so that the S&P has gone nowhere for days in the lead up to today's meeting (and some key FAANG, FAAMG earnings).
The "pause" is in, and the Street consensus appears to be forming such that today's statement will likely formalize the language, to a degree, to assuage any fears of a first quarter rate hike, or even a hike in the first half.
Fed Fund futures as of this writing now put the highest chances of a hike on the September meeting, and even then it sits at just under 21% (the preceding two meetings have chances of ~17% and 18%). BNP Paribas sees the press conference as the "opportune moment to layout the pause rationale." As described in last week's Taking Stock, Goldman Sachs analysts expect a watering down of the language that gradual rate hikes would be consistent with targets.
For equities, a boon stands to reason if such a circumstance unfolds. JPMorgan analysts say that with current valuations in equities and corporate debt, there is room for further gains assuming the Fed confirms its pivot away from tightening. There are already small signs that interest rate fears dampened M&A, after GameStop dropped attempts Tuesday to sell itself after potential buyers cited financing terms that were unacceptable.
But buying en masse on a Fed signal during this earnings season could pose risks. The merits of singular stocks appear more important than ever. Analysts at BofAML highlight clients now prefer individual stocks over ETFs that cover the broad market or specific sectors. They wrote Tuesday that clients dumped ETFs and turned their focus to individual companies, scooping up single stocks for the sixth straight week.
It could be, as this has been one of the more "discriminating" earnings seasons, at least more so than last quarter, as equity strategists at Wells Fargo wrote, citing moves in excess of 2% of the market depending on beats or misses. Bernstein also wrote that "beats are harder to come by" with the lowest ratio of beats since 2014. Analyst Ann Larson also wrote that growth forecasts continue to fall.
And with those circumstances baked in, focus turns to today's cacophony (we're again effectively unchanged in the S&P ahead of the mega catalysts). Trade talks get underway (Polaris and Harley-Davidson's earnings yesterday both cited tariffs and interest rates for weaker results), and a ton of FAANG names will have their earnings digested.
As promised, the catalysts keep coming, and we can focus on the world's largest company (yes, that's Microsoft..for now) which is due to report later today, with pretty much all the other remaining members of the FAANG, FAAMG family. The enterprise business will be closely watched for clues into the health of data centers. Intel last week discussed the weakness in the segment, and analysts were quick to ponder whether there may be read through to Microsoft. Questions will be whether it's true demand weakness or a stockpiling of inventories.
FAANG members were among the biggest drags on the market Tuesday, as the NYFANG index performance conveniently aligned with the S&P 500's bounce off the recent market bottom on Christmas eve. Apple, Facebook, Microsoft and Amazon.com locked out the top 4 spots for underperformance, accounting for the entirety of the negative ticks (S&P would have been flat without them).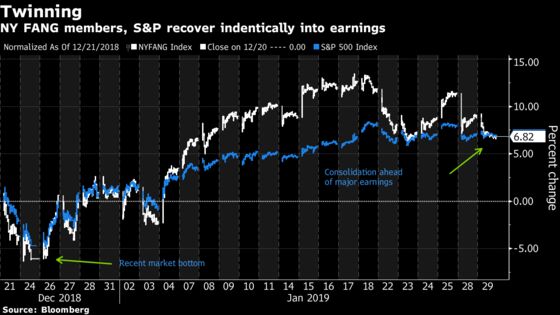 The NYFANG index also happens to include another fan favorite, Tesla, which is also due to report results today following their surprise pre-announcement on Jan. 18 for a "tiny profit" that sent shares tumbling. UBS, for one, expects margin pressures on Model 3 pricing declines, with Q4 likely disappointing investors.
Apple results will set the tone for the group (and suppliers like CRUS, AVGO, SWKS, MU which rose in sympathy) as services gross margin of 62.8% came in above some estimates while its revenue views didn't worsen. Shares have now fully recovered from that dark day in early January.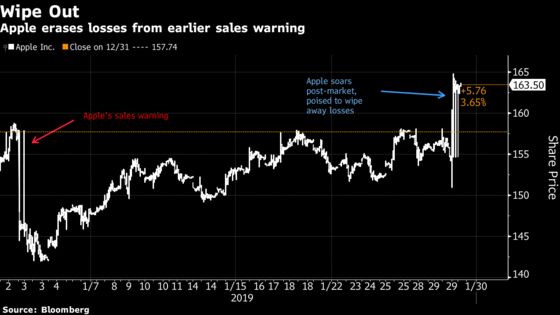 Some quick comments from the Street:
Morgan Stanley: iPhone maker "faces macro headwinds but investor sentiment/ positioning became overly negative, ignoring the strength of Apple's platform"
Jefferies: "Services gross margin of 63% was strong, in-line with our expectation for ~64%", but may not offset eroding hardware margins
PiperJaffray: Many "feared a more significant guide down was coming for March quarter revenue"
I'd be remiss for failing to mention AMD, which was flagged in Tuesday's Taking Stock, after the gaming chipmaker provided an upbeat forecast for 2019 -- a contrast to peer Nvidia. Northland analysts look prescient, recommending buying ahead of AMD results, expecting it to be better than feared. And sure enough, Mizuho analysts in their first take called the results "better than feared." Cowen notes the outlook implies a "sharp 2H snap-back". Shares were down 12% in the two sessions ahead of the results.
Packagers after SLGN's 2019 views missed, PKG beat on the top and bottom line; watch BMS, BERY, IP
Communications, networking firms (EXTR reported earlier Tuesday, FFIV) after JNPR cited "continued weakness with several of our cloud and service provider customers"
Semi caps names after MKSI's views missed estimates (watch KLIC, AMAT, LRCX)
Semiconductor names after MXIM missed (ADI ON, MPWR)
Life sciences names after ILMN's "irrelevant miss" and TMO's beat that just hit the tape; watch PKI
Dental services XRAY, PDCO, HSIC after ALGN's margins and views missed (ALGN fell 12% post market and is indicated to open down 7% as of writing)
Aerospace with Boeing coming up at 7:30 a.m. ET; HRS and TDG surprised the Street recently; watch SPR, HXL
Fast food as MCD earnings is due to report at 7:58 a.m. ET
Allergan got a series of downgrades, including from RBC and Morgan Stanley. RBC's Randall Stanicky had anticipated the Botox manufacturer would surprise positively with its 4Q messaging but now expects a risk of additional EPS downside. The "growth pharma" is no longer delivering growth. Morgan Stanley's David Risinger sees uncertainty in the company's pipeline and growth, which will impact stock valuation. Risinger noted the pharmaceutical firm needs new growth drivers as Botox growth may moderate in the face of new competition.
AK Steel was double downgraded at BofAML to underperform on the back of disappointing guidance from the steel producer. Analyst Timna Tanners expects a glut of U.S. steel looming in 2020-2022 and has concerns over the company's debt paydown. Higher raw materials are also impacting costs, she wrote.
Tick-by-Tick Guide to Today's Actionable Events
U.S.- China trade talks begin; Vice Premier Liu He meets with Mnuchin, Lighthizer
Jefferies winter food, lodging, leisure conference day 1
7:00am -- Weekly MBA Mortgage Applications
7:30am -- BABA earnings call
7:30am -- BA earnings
7:58am -- MCD earnings
8:15am -- Jan. ADP Employment Change
8:30am -- T earnings call
10:00am -- Dec. Pending Home Sales
10:30am -- BA earnings call
11:00am -- MCD earnings call
2:00pm -- FOMC Rate Decision
2:30pm -- Fed Chairman Powell news conference
4:05pm -- FB, MSFT, QCOM earnings
4:15pm -- PYPL earnings
4:30pm -- TSLA earnings
4:45pm -- QCOM earnings call
5:00pm -- FB earnings call
5:00pm -- PYPL earnings call
5:30pm -- MSFT earnings call
5:30pm -- TSLA earnings call