Pound Is 'Untradeable' as Brexit Drama Fuels Volatility Spikes
(Bloomberg) -- Wall Street is finding it harder to trade sterling as the drama surrounding Brexit roils the British currency.
The pound's short-lived rally on Wednesday after U.K. Prime Minister Theresa May secured Cabinet backing for her draft deal turned to aggressive selling on Thursday as several ministers resigned and questions of a leadership challenge arose.
Cable's one-month implied volatility spiked to the highest level since 2016 as the pound posted its biggest drop in more than a year against the dollar. While passive algorithmic strategies can handle the extreme, headline-driven swings, it makes for a tough liquidity environment, according to Jefferies LLC.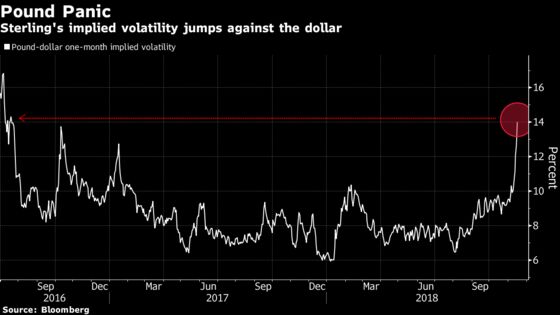 "The news flow is far from over, the market is still short and any good news sees violent pops, which is met by selling from a very skeptical investor base," Jefferies foreign-exchange head Brad Bechtel wrote in a note Thursday. The British currency "remains relatively untradeable at the moment, but I think the preference in the market is to hammer rallies still."
The pound plunged as much as 1.9 percent to $1.2744 Thursday, from as high as $1.3072 the day before. Hedge funds and other speculators have been bearish on the British currency, holding a net short position since June, according to data from the Commodity Futures Trading Commission.
While the pound's turmoil may have some traders backing away, Societe Generale points out that sterling has been confined to a range against the euro and should continue to do so. Strategist Olivier Korber recommends purchasing euro-pound one-year double-no-touch options to play that range, with a knock-out at 0.85 and 0.94. The pair is currently trading at 0.8867.
Still, Jefferies isn't alone in its caution. UBS Securities LLC also recommended steering clear of the currency until the Brexit dust settles.
"Staying out of the pound in the short-term may be the best strategy," said Vassili Serebriakov, a UBS macro strategist.