Pound Gains as BOE Rate-Cut Bets Fade on U.K. Construction Data
The pound erased losses after traders pushed back bets for a Bank of England interest-rate cut to next year following better-than-expected U.K. construction data.
Money markets now see a 25-basis-point reduction by the BOE in January 2021, compared with bets on Monday for easing in November. That led sterling to rebound after it earlier dropped to its lowest level since late December on concerns about fraught trade talks between Britain and the European Union.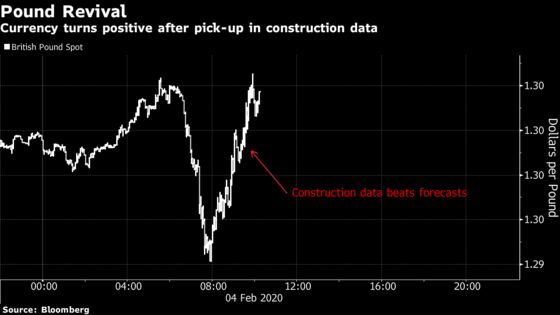 Pound traders have been paying more attention to U.K. data this year as their focus moves from efforts to get a Brexit deal to whether the central bank will cut rates to stimulate the economy. The construction purchasing managers' index for January came in at 48.4, versus expectations for 47.1, and follows better-than-expected services data last month.
"Tomorrow's final services PMI is potentially likely to have a somewhat greater impact," said Valentin Marinov, a strategist at Credit Agricole SA. "While pound positioning looks a bit more neutral following the sell-off yesterday, caution is still warranted."
The pound traded up 0.1% at $1.3011, after falling earlier to $1.2941. It strengthened 0.2% to 84.95 pence per euro. U.K. government bonds fell, pushing up 10-year yields by four basis points to 0.55%.
Sterling is still suffering losses this week after statements Monday from U.K. Prime Minister Boris Johnson and the EU's chief negotiator Michel Barnier fueled fears that negotiations this year between the two sides on a trade deal may come unstuck.
The PMI data "has bought the pound a little time," said Jane Foley, head of foreign-exchange strategy at Rabobank in London. "But given the distance between the U.K. and the EU at the start of the future arrangement talks, the pound still looks vulnerable."