Pound Fall and Shift in Rate Cut Odds Sharpen January Data Focus
The pound slid as investors redrew their outlook for the timing of a U.K. rate cut, putting upcoming data from the services sector into sharp focus after another Bank of England policy maker voiced support for action.
After the remarks from Gertjan Vlieghe, money market pricing swung to put the chances of a cut this month at 50%, up from 25% on Friday. Attention sharpened on the remaining economic reports due before the BOE's Jan. 30 rate meeting, especially forward-looking Purchasing Managers' Index data for January, due next week.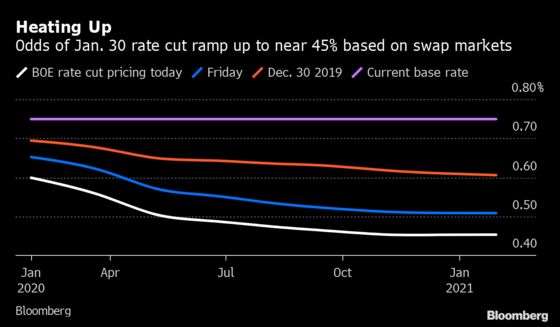 "Policy makers have, in short, told you the PMI data will make up their minds for them," said Jordan Rochester, a strategist at Nomura International Plc. "Little to no improvement would justify MPC members to vote for a cut. Two already are. But the new orders were already picking up and green shoots are evident in U.K. & Global PMIs."
GDP data for November showed an unexpected contraction in the month before the U.K.'s general election. Vlieghe said it wouldn't take much to swing his decision one way or the other and he pledged to vote for a rate cut if there are no signs the economy has improved since Boris Johnson's decisive victory.
The language of BOE policy makers has shifted markedly over the last few days. Vlieghe's remarks, made in an interview with the Financial Times, followed intervention by fellow MPC members Mark Carney and Silvana Tenreyro, both of which led to a drop in the pound.
Even if the bank chooses to hold rates this month, the dovish tone struck will likely continue to hold back sterling, according to Valentin Marinov, head of Group-of-10 currency strategy at Credit Agricole SA.
"The pound is likely to remain vulnerable, especially if any decision to keep rates stable in January is perceived as only delaying the inevitable," he said. "The shift in the MPC rhetoric could suggest that the 'Boris bounce' in the wake of the general election we and the market were hoping for may not live up to expectations."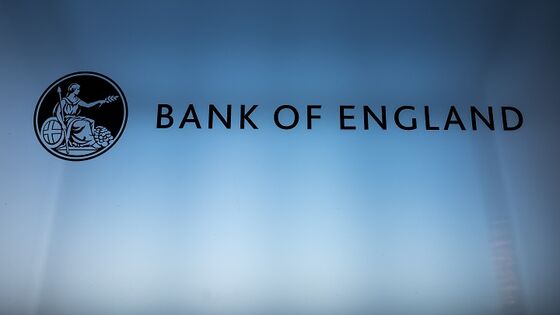 The pound fell as much as 0.8% to $1.2961, its lowest level since Dec. 26 and the biggest fall among Group-of-10 currencies. It also weakened by 0.8% to 85.80 pence per euro. The rise in U.K. government bonds was led by shorter tenors, with two-year yields down five basis points to 0.47%.
Rate-cut speculation was given more fuel after data released Monday showed a 0.3% monthly decline in the U.K.'s gross domestic product in November, casting doubt over whether there was any growth at all in the fourth quarter. Economists had expected unchanged output for the month, which preceded a decisive victory for Prime Minister Boris Johnson in the country's general election.
Credit Agricole's Marinov said the weaker than expected U.K. data "could encourage the markets to front load BOE rate cut expectations" ahead of the January policy decision, though he expects data to improve sufficiently so as to deter the MPC from a January rate-cut. Instead, he sees the cut coming in May as "growing no-trade-deal Brexit fears" come to a crescendo ahead of the deadline to extend the transition period.
Kit Juckes, chief currency strategist at Societe Generale SA, said in a note that market had been caught out after switching to long sterling positions in recent months. Asset managers increased their net pound long contracts to the highest recorded since data began in 2006, according to Commodity Futures Trading Commission data for the week ended Jan. 7.
In the options market, sentiment on the pound has worsened, with demand for puts now outweighing calls for the next week.
Some of the biggest Wall Street banks have also been rethinking their outlook for gilts in recent weeks.
Goldman Sachs Group Inc. says there are fresh downside risks to U.K. yields given officials are acknowledging the debate about further stimulus, strategist George Cole wrote in a note published Friday, adding that investors should close short gilt positions. JPMorgan Chase & Co. says it is bullish on 10-year gilts as the BOE's appetite for easing appears to be growing, according to a note from fixed-income strategist Francis Diamond in London.