Pound, Euro's Woes Are Back on Speculation Fed Will Hike Rates
The pound and euro slid to their lowest since last year as concerns about soaring U.S. inflation rippled across Europe's currency markets.
The euro touched levels near $1.1450 last seen 16 months ago, while sterling broke below $1.34 on Thursday, its weakest since December. Options traders positioned for further losses in both currencies, with sentiment on the pound over the next month reaching its lowest level this year.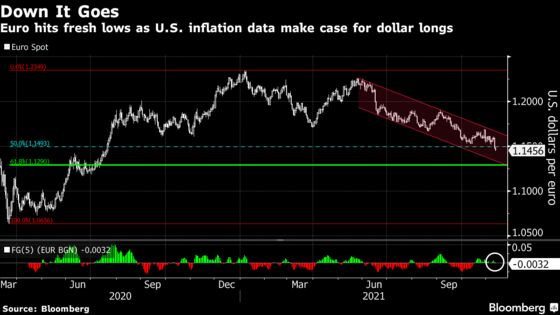 Investors are piling into the dollar, taking a gauge of the greenback to its highest level since November 2020, on speculation that surging prices may push the Federal Reserve to tighten policy. Data showed U.S. consumer prices rose in October at the fastest annual pace in three decades.
Neil Jones, head of foreign-exchange sales to financial institutions at Mizuho Bank Ltd., predicted that more surprise gains in U.S. inflation into 2022 will weigh on both the euro and the pound.
"Supply shortages and constraints will likely ease -- nevertheless, my sense is U.S. inflation will prove stickier than anticipated," he said. "This trade is not going away."
That's leading traders to snap up protection, taking the cost of insuring swings in the pound over the next three months to its highest since March. It's also spiked for the common currency, to the most since July.
For pound investors, challenges are also brewing closer to home with Brexit tensions rekindling over Northern Ireland. The European Union is preparing a package of retaliatory measures in case the U.K. decides to suspend parts of the post-Brexit trade accord. 
"Expect ongoing U.K.-EU brinksmanship," said Jeremy Stretch, head of G-10 foreign-exchange strategy at Canadian Imperial Bank of Commerce, adding that combined risks could see the pound head toward $1.3277.
The euro's drop saw U.S. corporations selling extensively when it approached $1.15, while hedge funds had strong appetite for long positions on the greenback after support at that level gave way, according to traders in Europe, who were not authorized to speak publicly and asked not to be identified. Bets on swings in the euro in options show both short and longer-term sentiment is still bearish.