Pot Sales Jump as More People Stay at Home: Bank of America
(Bloomberg) -- More people stuck at home has led to a higher demand for cannabis, and Aphria Inc. is one of the best-positioned companies to take advantage of that trend, an analyst at Bank of America said.
"Our checks across North America were consistent: regardless of region, cannabis purchases have accelerated," analyst Christopher Carey said in a note. "While likely on pantry loading, it's not unreasonable to think there will be some boost to per capita consumption as people stay at home longer."
This implies that pot is a defensive category, like alcohol and tobacco. Carey upgraded Aphria to buy from neutral, although he cut his price target to C$5 from C$8 to reflect the impact of market turbulence on cannabis shares. The company "could increasingly take a disproportionate share of increased demand" as its peers struggle, he said.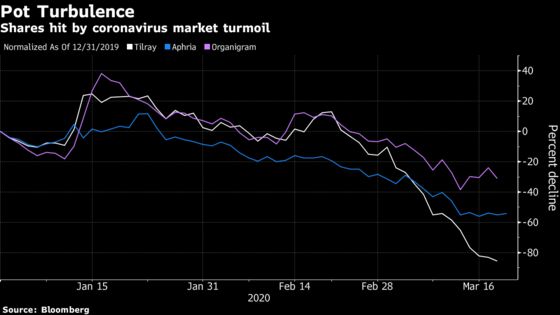 Carey also raised Organigram Holdings Inc. to neutral from underperform, leaving his price target at C$2.50. The company appears capable of delivering consistent sales and profit, unlike many of its peers, with sufficient liquidity and free cash flow in sight, he said.
Separately, Carey downgraded Tilray Inc. to underperform from neutral and slashed his price target to a Street low of $2 from $16 following last week's share offering at a steep discount. This "very dilutive equity raise occurring amidst stock market turbulence" was a "significant confidence hit, in our view," he said.
Aphria shares rose as much as 9.5% in Toronto, while Organigram gained 5.5% and Tilray added 15%.