Pot by Numbers: The Nitty Gritty of Canada's Marijuana Scene
Canadian households consumed about C$5.5 billion ($4.2 billion) worth of cannabis in 2017, or 773 tonnes, according to the federal statistics agency, which estimates the production value of the plant at C$5.1 billion. British Columbia and Quebec account for most of that.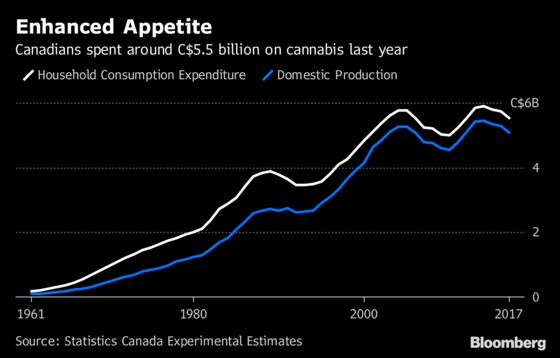 Based on the models of the federal statistics agency, Canada is a net exporter of marijuana, running a trade surplus with the world of C$664 million. In 2017, illegal exports nationwide surpassed C$1 billion, with British Columbia shipping the lion's share of that. It wasn't always so. Until the late 1990s, Canada brought more weed into the country than it sent abroad, with total imports peaking at about C$1 billion in 1989.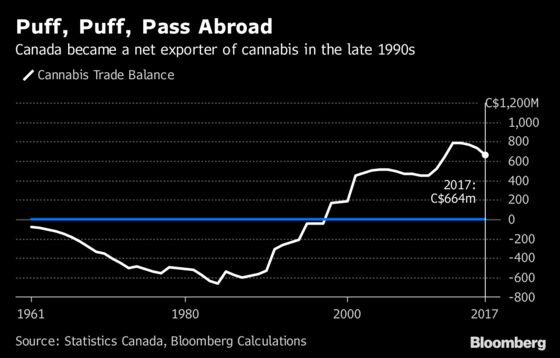 Some 12 percent of Canadians already consume weed, according to Statistics Canada surveys, which found 16 percent of men and 8.3 percent of women used marijuana in the last 12 months. The agency assumes 49 percent of those currently using cannabis will switch to legal weed, while 25 percent aren't sure whether they'll switch to legal from illegal.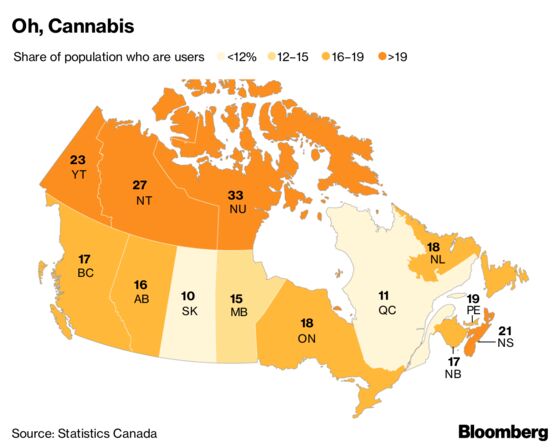 Canadians consumed an average 21 grams of marijuana last year. Nova Scotians were the heaviest users, getting through 27.1 grams per capita. British Columbians and Albertans weren't far behind, at 25 grams and 24 grams.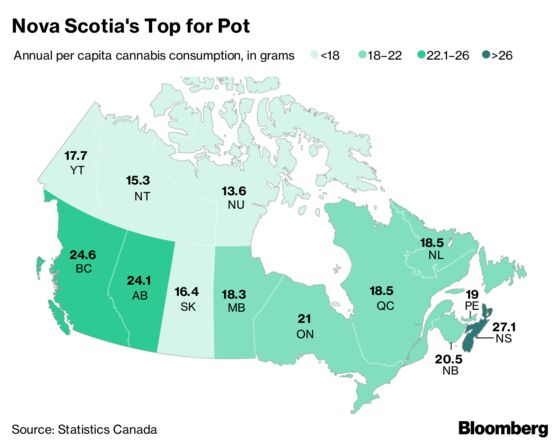 Cannabis prices were falling ahead of legalization, with a gram costing C$7.43 in 2017, the lowest since 1981. To get a more accurate picture of what has been a murky market, Statistics Canada has begun crowd sourcing cannabis users' data -- they can submit the price they paid for their weed on the agency's website.
Prices for illegal cannabis differ by province. It was cheapest, C$6.94 a gram, in British Columbia. In the north, you generally pay more for everything, and weed is no exception, with prices nearing C$10 a gram.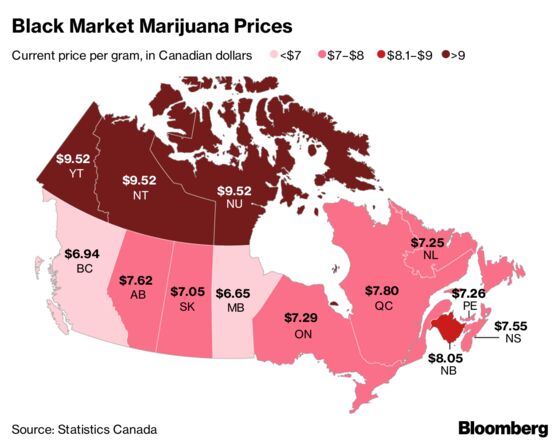 Some Canadians prefer to grow their own, and the statistics agency estimates about 3 percent of the total cannabis produced by households is for their own consumption. That share may rise. It's now legal to grow as many as four pot plants on your own premises, given more than half of households reported they also grew fruits, herbs, vegetables or flowers for personal use in 2013.