Portugal Keeps 2019 Deficit Target of 0.2% Ahead of Election
(Bloomberg) -- Portuguese Finance Minister Mario Centeno kept a goal set in April to narrow the country's budget deficit to 0.2 percent of gross domestic product in 2019, when the minority Socialist government's four-year term in office is scheduled to end.
"Convergence with the euro area will continue," Centeno told reporters in Lisbon after handing in the 2019 budget proposal to parliament a few minutes before midnight on Monday. He forecasts the unemployment rate will drop to 6.3 percent in 2019, when the economy is set to slow for a second year.
Tourism has boosted the Portuguese economy, which last year posted the fastest growth since 2000, helping the government lower the jobless rate and manage the budget deficit. While the shortfall has narrowed and borrowing costs have plunged since the euro crisis, Portugal's debt burden remains the third-highest in the euro area behind Greece and Italy.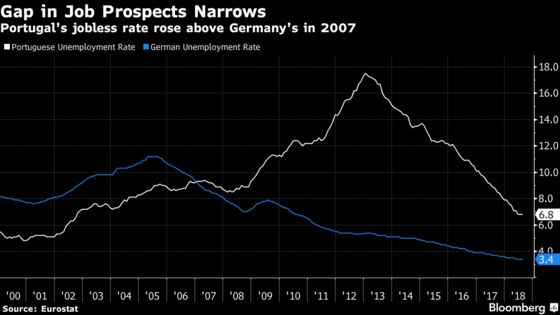 Prime Minister Antonio Costa's minority government has been supported in parliament by the Left Bloc, Communists and Greens, which hadn't followed the moderate Socialists in backing European budget rules in the past. Finance Minister Centeno, who heads the Eurogroup since January, has reversed state salary cuts faster than the previous administration proposed, while raising indirect taxes.
The 2019 budget sets aside 50 million euros to raise public sector workers' wages, with the average public sector salary forecast to rise more than 3 percent, Centeno said at a press conference in Lisbon on Tuesday morning.
Asked if the budget was designed to win support ahead of elections next year, Centeno said that was something for commentators to decide on. "We'll certainly have many experts for that debate, in which the finance minister won't participate."
Other forecasts and measures in the budget proposal include:
Economic growth is projected to slow to 2.2 percent in 2019 from an estimated 2.3 percent this year and 2.8 percent in 2017, as exports decelerate
Unemployment will drop to 6.3 percent from 6.9 percent in 2018
Inflation is seen at 1.3 percent in both 2018 and 2019
Government debt will decline to 118.5 percent of GDP in 2019 from 121.2 percent in 2018; the budget deficit target for this year remains 0.7 percent
Public investment will increase 710 million euros ($823 million) in 2019, with investment in large structural projects including railways and new hospitals reaching 1.1 billion euros
The government plans a 200 million-euro transfer to reduce the electricity tariff deficit in 2019
The "extraordinary contribution" that energy companies are charged will be extended to the renewable energy industry
The government expects to receive dividends from state-owned bank Caixa Geral de Depositos SA in 2019, as well as an increase in the dividends paid by the Bank of Portugal
Total revenue is seen rising 4.1 percent in 2019, including a 2.9 percent increase in tax revenue; total spending is projected to rise 2.8 percent next year
The initial vote in parliament on the budget is scheduled for Oct. 30.