Pompeo Says 'Progress'' Made After Meeting North Korea's Kim
(Bloomberg) -- U.S. Secretary of State Michael Pompeo reported progress Sunday after meeting with North Korean leader Kim Jong Un in Pyongyang amid high expectations that he can resolve details over a second summit with President Donald Trump.
Pompeo returned to Seoul and was meeting with South Korean President Moon Jae-in, with a written statement possible, according to the Blue House. The top U.S. diplomat is also expected to meet South Korean Foreign Minister Kang Kyung-wha during his visit.
"We continue to make progress on agreements made at Singapore summit," Pompeo tweeted shortly after arrival at the Osan Air Base south of Seoul, thanking Kim for hosting him.
A U.S. official told reporters traveling with Pompeo that the visit to North Korea was "better than the last time" with a "long haul" ahead.
South Korea's presidential office expects Pompeo's meeting with Kim to include discussions on a second U.S.-North Korea summit, local television channel YTN reported, citing an unidentified high-level official.
The lightning trip signals Pompeo isn't likely to resolve critical issues over the next steps needed to get North Korea to denuclearize or make much progress on a peace treaty to formally end the Korean War. Kim's regime has said it wants to focus on more than just its nuclear program, and that it expects the U.S. to show some flexibility with its demands.
Pompeo and Kim met for about two hours and then had a 90-minute working lunch, starting with this exchange in front of reporters:
"It's a very nice day that promises a good future," Kim said, "for both countries."
Pompeo said: "So we had a great, great visit this morning. Thank you for hosting, President Trump sends his regards. And we had a very successful morning."
Pompeo landed in Pyongyang in late morning to meet Kim after visiting Japanese Prime Minister Shinzo Abe on Saturday in Tokyo. Moon's office said the meeting will determine how quickly the process for Pyongyang's denuclearization and establishing peace in the Korean peninsula will take place. Pompeo will continue traveling to Beijing and then return to Washington on Monday.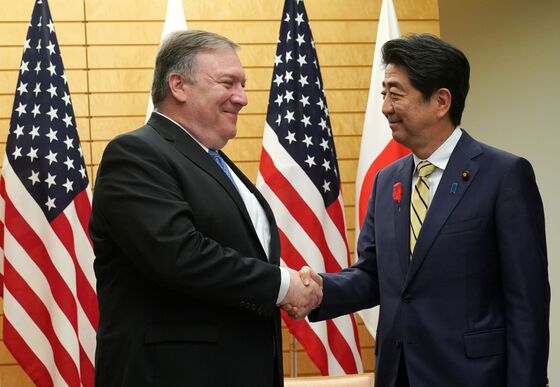 In a sign of the modest objectives of the trip, Pompeo told a reporter en route to Japan that one of his goals would be to "make sure that we understand what each side is truly trying to achieve," a comment that signaled the two countries were still a long way off from detailed negotiations on verified disarmament.
Pompeo added that he hopes to "develop options for both location and timing" for a second summit between the two leaders -- but said that even that may not be settled when he leaves Pyongyang, even though Trump said last month he wants a meeting "very soon."
In Tokyo, Pompeo told Abe that the U.S. wanted to work closely on denuclearization talks and that he would raise with the North Koreans the issue of Japanese abductees held for decades by the regime.
The Sunday stop in Pyongyang was Pompeo's first chance to introduce his special envoy for North Korea, Stephen Biegun, to leaders there. Pompeo had hoped to do that in August, when he appointed Biegun and announced they would travel to the country. But Trump called off the trip a day later, saying North Korea hadn't made sufficient progress toward denuclearization.
This is Pompeo's fourth trip to Pyongyang and his first visit since July, when he spent the night and left with little to show for his journey. Soon after the secretary of state left the country on his last visit, North Korea issued a statement lambasting his "gangster-like" demands.
Kim Song Hye, who went to the White House with Kim Yong Chol in June, at a staff lunch described Trump as "generous" and "a leader." She also said she believed the two countries "wouldn't be here without Trump."
Despite public criticism from analysts that the U.S. has obtained little on the denuclearization front, Trump and his team point to a lack of nuclear and missile tests since late last year as signs that their strategy is working. And at a news conference last month, Trump claimed that there is more progress behind the scenes than the public recognizes. Pompeo has said the U.S. is "making the progress we need."
In recent weeks, U.S. officials have pointed to a recent meeting in Pyongyang between Kim and Moon, when North Korea committed to dismantling a missile-engine-testing site and raised the possibility of doing the same at its Yongbyon nuclear-enrichment facility.