Pompeo's Visit Signals U.S. Pressure on Orban for Russia Ties
(Bloomberg) -- From isolation to charm offensive to pressure, U.S. diplomacy toward Hungary is entering a new phase as Washington steps up efforts to counter Russia's and China's growing influence over central Europe.
The illiberal rule of Viktor Orban will be the focus of Mike Pompeo's visit to Budapest on Monday, the first to Hungary by a U.S. Secretary of State since Hillary Clinton's trip in 2011.
In a sign that the U.S. policy toward Hungary is switching gears, Pompeo is scheduled to meet with civil society leaders in Budapest before seeing local officials and will also announce a new program to support independent media in central Europe. Orban has tightened his grip on non-governmental organizations, news outlets and academia to create a state modeled on the likes of Russia and Turkey.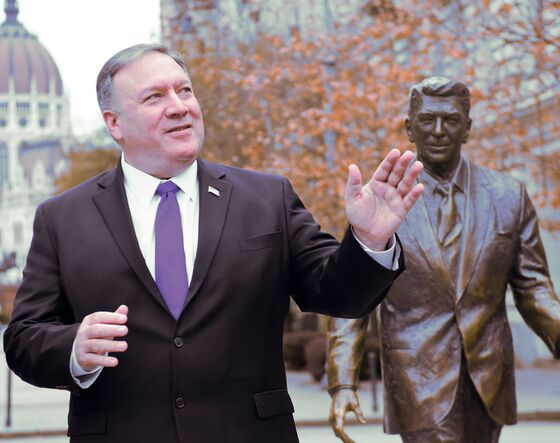 "We treat allies as allies and expect them to keep their commitments," the State Department said in a statement before Pompeo's departure. Those commitments include paying a fair share of defense spending and upholding democratic standards, it said.
While much of eastern Europe remains staunch U.S. partners and relies on American troops to ward off threats from Russia, Orban has said he considers Moscow more of a partner than a foe. The premier, a standard-bearer of the continent's resurgent nationalist movement, has handed a $12 billion nuclear plant expansion deal to Russia, criticized the sanctions meted out against President Vladimir Putin's administration and blocked Ukraine's talks with NATO.
Those positions have exasperated U.S. diplomats, who're still trying to figure out how to better leverage shared NATO commitments. Years of criticism that bordered on Orban's diplomatic isolation over the erosion of democracy are widely seen as having only boosted Russia's influence over Budapest, where Putin is a regular visitor.
But equally, a charm offensive last year by President Donald Trump's new envoy to Hungary -- which included a promise to abstain from public criticism of Orban's increasingly authoritarian rule as well as the suspension of a State Department program to support local independent media -- appeared only to embolden Orban.
Hungary ignored U.S. objections to effectively expel a university founded by the billionaire George Soros. It also rejected an extradition request for alleged Russian arms dealers, who were instead flown to Russia.
Pompeo's swing through Europe also includes Slovakia, Poland and the European Union's headquarters in Brussels. He will hold a briefing with Hungarian Foreign Minister Peter Szijjarto before meeting Orban over dinner Monday.
The U.S. expects Hungary to show its western commitment, including by signing a bilateral defense agreement, taking steps to wean itself off Russian energy and beefing up military spending. While it's unclear what specific agreements may be announced during Pompeo's visit to Budapest, the State Department said the U.S. specifically plans to support investigative journalists probing Russian and Chinese corruption in the region.
"U.S. pressure on Hungary that includes public criticism of the government is back and that's bad news for Orban," said Daniel Bartha, head of the Centre for Euro-Atlantic Integration and Democracy think-tank in Budapest. "Pompeo's visit is as much a warning as anything else, signaling U.S. impatience."