Jackson Pollock Work That First Sold for $306 Now May Fetch $18 Million
(Bloomberg) -- A small Jackson Pollock painting originally purchased for $306 in 1950 by future U.S. Vice President Nelson Rockefeller may fetch $18 million next month, when a struggling Brazilian museum puts it on the auction block.
"Number 16" will be the top lot of the 20th century and contemporary art evening sale at Phillips on Nov. 15 in New York. The seller is Museu de Arte Moderna do Rio de Janeiro, which received the drip painting in 1952 as a gift from Rockefeller, a scion of the family that helped establish New York's Museum of Modern Art.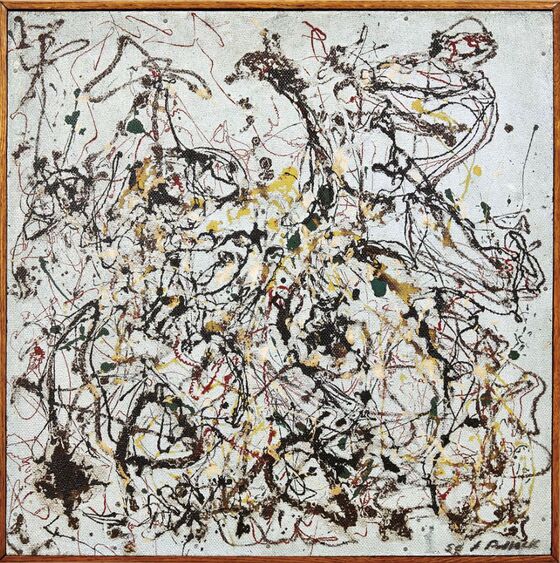 Phillips is the latest auction house seeking to capitalize on the Rockefeller name. In May, Christie's sold more than $800 million of art, decor and furniture from the estate of Nelson's brother David, with every lot finding a buyer. Sotheby's will offer hundreds of objects from the estate of Nelson and Happy Rockefeller starting next month.
"There's a real magic to that provenance," said Robert Manley, co-head of 20th century and contemporary art at Phillips. "They were the biggest collectors of their time. They had access and very good taste. People knew that much of their art will end up in major museums."
"Number 16" was one of 16 known paintings done in 1950 on 22 1/2-square-inch pieces of Masonite, a type of pressed wood, according to Phillips. The artist had loads of such panels in his studio, left over from a printing job done by his brother Sanford in 1948.
The surface is layered with swirls and drips of paint on silver background, accented with splashes of yellow, red and green over thin lines.
"It's an exquisite, small-scale gem," Manley said. "It has this crispness. The line is nearly dancing."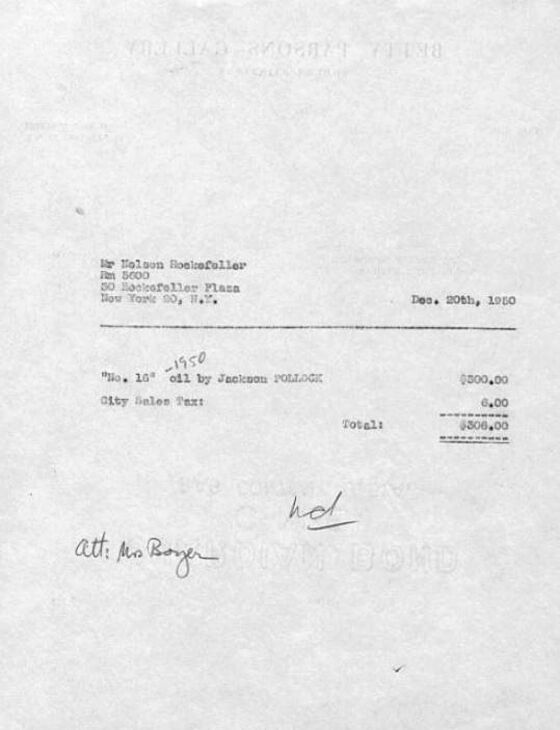 The decision to part with Brazil's only Pollock open to public viewing sparked widespread outrage in the nation's art circles and was opposed by the Brazilian Institute of Museums. But the Culture Ministry supported the sale, seeing the cash-strapped museum's decision as an unfortunate but necessary evil.
Nelson Rockefeller bought the painting from Pollock's solo exhibition at Betty Parsons Gallery that included some of his greatest masterpieces: "Lavender Mist: Number 1" is in the collection of the National Gallery of Art in Washington; "Number 31" is at MoMA; and "Autumn Rhythm: Number 30" is at the Metropolitan Museum of Art.
The artist was in his prime. A year earlier, in 1949, Pollock appeared in a Life magazine article that asked "Is he the greatest living painter in the United States?" The Wyoming native died in a 1956 car accident in the Hamptons at age 44.