Polish Gloves Maker Sees a 3,277% Stock Rally
(Bloomberg) -- Some investments take time to pay back.
Poland's Mercator Medical SA bought its first factory producing latex gloves in Thailand in 2006, and tripled its capacity over the next 10 years. Initially, the investment didn't help its market valuation, oscillating around the $25 million mark in recent years. But demand for medical supplies amid the coronavirus pandemic changed all that.
Mercator shares rose 72% on Monday after company reported second-quarter net income of $54 million, four-times more than its cumulative profits in the last decade. The stock got another boost on Tuesday, ending 16% higher, and was Warsaw's second-most traded stock after management said record earnings weren't a one-off. The gains bring this year's rally to 3,277% -- surpassing its bigger Malaysian peers -- and valuing the company at $924 million.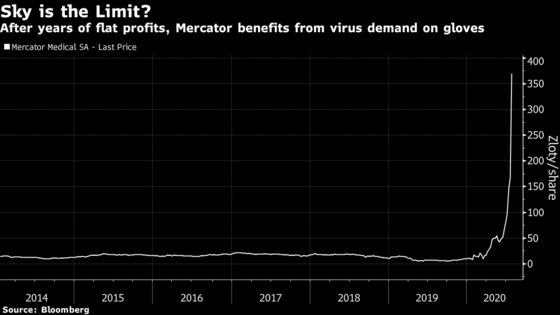 Even so, the company's founder and Chief Executive Officer Wieslaw Zyznowski, dubbed the "Polish rubber king," isn't considering cashing out of his 76% stake. Instead, he plans to invest in new production facilities in Thailand and expand into complementary businesses.
"During the war, we should prepare for peace," Zyznowski, who has a PhD in philosophy, said on a videoconference on Tuesday. "We are working on scenarios for the company for the time when Covid-19 will be eventually tamed."