Poland Hopes EU Election Will Soften Bloc's Climate Rules
(Bloomberg) -- Poland is hoping the European Parliament's resolve to crack down on fossil-fuel emissions will soften after elections next year likely to bring gains in representation for anti-establishment parties.
The European Union's biggest coal producer is struggling with a surge in energy prices, which undermine the competitiveness of its $525 billion economy. A growing role for EU lawmakers who espouse similar views as U.S. President Donald Trump may translate into softer policies on emissions, blunting the force of higher carbon and power prices.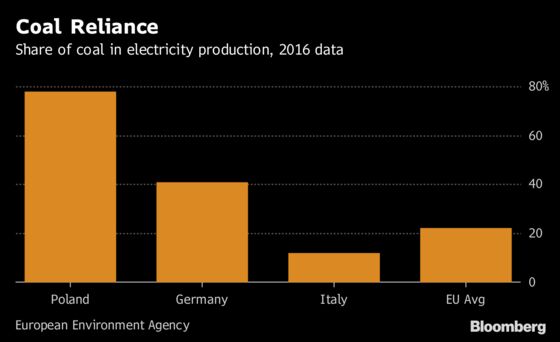 The focus on climate adds another dimension to next May's ballot in the EU, which will impact policies on trade, immigration and economic integration across what's soon to be a 27-nation bloc following Britain's exit. With the help of strategists including Steve Bannon, who helped upend the U.S. political order before falling out with Trump, European populists are discussing ways to gain a bigger foothold for their policies ahead of the election.
"The emergence of people who will have a different view on economic solidarity and spending on environmental protection could change EU's approach to energy policy," Poland's Deputy Energy Minister Grzegorz Tobiszowski said in an interview in Warsaw. "We spend huge sums on the environment, but we can't persuade the U.S., China or India to follow our example, pushing industry out from the continent."
Poland's government, which has been sued by the EU over its erosion of democratic standards, shares the populists' focus on national sovereignty over handing authority to Brussels. Tobiszowski's comments highlight the cabinet's balancing act on energy, where it abides by EU rules while also working to maintain support from its powerful coal industry.
In December, the country will host the next round of United Nations' climate talks, giving it a spotlight for discussing the Polish government's preferred strategy for coping with energy and environmental issues.
The cost of carbon dioxide emissions has more than tripled over the last 12 months after EU lawmakers pushed through measures to reduce a glut in the allowances that's dogged the market for most of the past decade. That's helped push up the cost of electricity across the continent, especially in nations that rely on dirty fossil fuels such as Poland.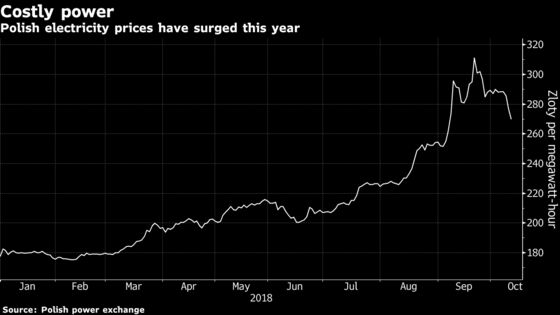 The Jagiellonski Institute, a Polish think-tank founded by a former ruling-party lawmaker, said in a report this month that the competitiveness of the country's industry has already been "severely" hit by higher energy costs, with big companies paying 17 percent more for electricity than their peers in the Czech Republic and 45 percent more than in Germany.
"It means nothing that we're a leader" in reducing emissions "if all the others use more coal and we lose our industry and jobs," Tobiszowski said. "Elections could cause that more people will be aware of this."
The Polish strategy may not pan out as Tobiszowski and his colleagues hope, according to Victoria Cuming, who follows energy policy for Bloomberg NEF in London. It will be "tough and time-consuming" to change the EU's climate rules after the elections, especially as they may be "enshrined in EU law by then," she said.
Also, populist parties across the bloc have different agendas on climate. For example, Italy's Five Star Movement, an anti-establishment group that won power in March elections, wants the country to use only clean energy by 2050. "Often, such parties are more motivated by a wish to rely only on domestic supply," Cuming said.
Reliance on local coal deposits has also been a driving force for Poland's government, which last week said it wants to boost slumping output even as the country is home to 36 of the EU's 50 most polluted cities and towns. In the meantime, it also seeks to roll out more renewable energy investments, mainly offshore wind parks in the Baltic Sea.
By 2040, Poland wants to reduce the share of coal in its energy mix to 50 percent, from 80 percent now. For government-controlled utility Energa SA, the EU election raises hopes that Poland won't have to speed up the process of withdrawing from coal.
"If the balance of power changes, then in a year or two trends in energy could change," Energa's Chief Financial Officer Jacek Koscielniak said in an interview. "We don't expect a radical change, but we would want a more balanced approach to development. As a country we can't afford to drop coal too quickly."