Plus500 Slides After Revealing Dependence on Clients' Bad Bets
(Bloomberg) -- Plus500 Ltd., sponsor of Spanish soccer team Atletico Madrid, plunged after the broker revealed how much it has cushioned the blow of new rules with profits from customers' bad wagers. It also warned 2019 earnings will take a hit.
The London-traded company recorded a $56 million trading gain by taking the other side of clients' bets during the fourth quarter, which accounted for about a third of overall revenue. Plus500 clients lost money during the global market rout in the final months of 2018.
Meanwhile, Europe's markets regulator has been clamping down on the sale of contracts for difference, or CFDs, which allow retail investors to make risky wagers with borrowed funds on stocks, bonds, foreign exchange and cryptocurrencies. Under the rules introduced in 2018, brokers including IG Group Holdings Plc, CMC Markets Plc and Plus500 are restricted in how they sell and market the derivatives, while customers face caps on how much they can borrow and lose.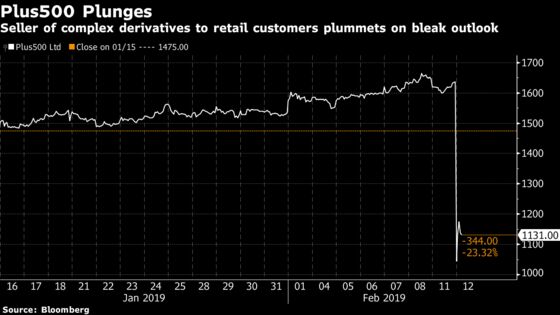 While the clampdown was expected, investors were caught off-guard by how much the equity market swoon, which whipsawed trading desks around the world, helped Plus500 cushion the pain. The shares plunged about 40 percent.
As recently as December, the company said it had performed well despite new rules from the European Securities and Markets Authority were imposed in August, and expected results to beat the market's expectations.
"It's a really disturbing revelation, something that will make people question if they want to own a business that's generating low quality revenues from sources they hadn't anticipated and introduced real volatility to earnings," said Justin Bates, an analyst at Canaccord Genuity Ltd.
Plus500 historically generated the majority of revenue from so-called spreads, or the amount that it charges punters for taking their trades, rather than by betting against them and profiting from their losses, according to Ben Williams, an analyst in London with Liberum.
Executives at the firm said on a conference call they have a policy to remain unhedged. Plus500 has previously said it earns revenues on customers' trading positions, although this amounts to a marginal component of the group's overall total revenue in previous years.
"Such gains have been negligible in the long run, but material in this particular period," wrote Williams. "The company is resetting forecasts based on an assumption of low volatility."