Plastic Prices Ease From Record Highs Providing Inflation Relief
(Bloomberg) -- Prices of chemicals that make everyday plastics are beginning to ease from their record highs proving rare relief for U.S. inflation running at the fastest pace in four decades. 
Prices for ethylene -- a primary building block for plastic -- are trading nearly 50% below where they were in April due to higher supplies from Gulf Coast petrochemical plants ramping back up after a series of weather-related outages, according to ICIS, a data provider. Polypropylene, used in furniture, cleaning products and carpet, costs nearly 20% less than in August.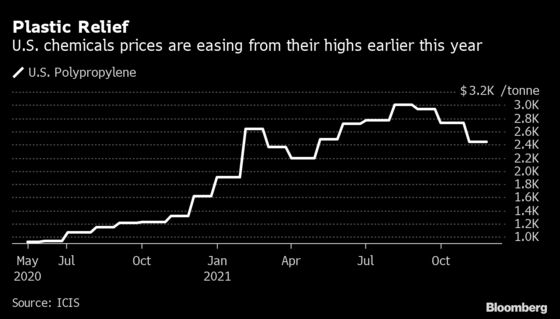 "Key upstream building-block chemicals such as ethylene and propylene have come off their summertime highs as many production impacts in the US from weather-related events such as Hurricane Ida have resolved," said Jeremy Pafford, head of North America at ICIS. 
While the lower prices come too late for the holiday shopping season, it's a welcome indicator for consumers struggling with inflation reaching 6.8% in November, the fastest annual rate since 1982. The shale boom a decade ago gave rise to rapid growth in petrochemical facilities due to the cheap gas feedstock. But the industry's concentration along the Texas and Louisiana coastline means it's vulnerable to extreme weather. 
Back-to-back hurricanes last year, the Texas freeze in February and another active storm season this summer wiped out a lot of the U.S. chemical manufacturing capacity over the past 18 months from which it's now recovering. Ethylene inventories have risen to their highest levels since the first quarter of 2019, according to American Fuel and Petrochemical Manufacturers.