PJT's Tim Coleman, Architect of Big Restructuring Deals, to Exit
(Bloomberg) -- PJT Partners Inc.'s Tim Coleman, one of the original bankers who turned debt restructuring into a major moneymaker for Wall Street, is calling it quits after four decades in the industry.
First at Citigroup Inc., then at Blackstone Group Inc. and most recently at PJT, Coleman, 66, played key roles in dozens of the most prominent bankruptcies, from retailer Macy's Inc. in the early 1990s to Delta Air Lines Inc. in 2005 and Purdue Pharma, the maker of Oxycontin, in 2019. He also helped keep some debtors out of bankruptcy, notably Ford Motor Co. and Xerox Corp.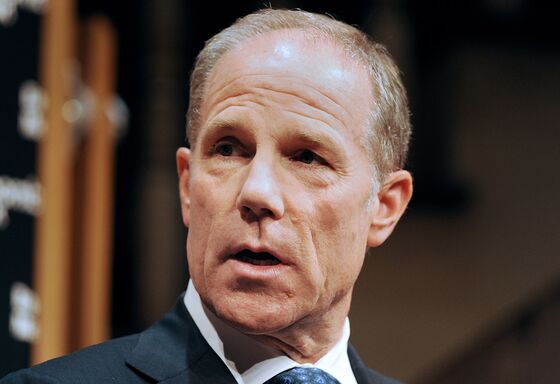 "We knew we needed the very best advice," Delta Chief Executive Officer Ed Bastian, who figures he spent 2,500 hours with Coleman while the airline was reorganizing, said from Atlanta. "His counsel was invaluable."
Coleman's good fortune was to enter restructuring at the cusp of a revolution in corporate America's use of debt. Michael Milken was popularizing junk bonds, Treasury yields were beginning a long-term decline and private equity was about to transform dealmaking with the leveraged buyout.
Before long, the stigma of borrowing would be gone. Non-financial companies in the U.S. now carry debt equivalent to a record 140% of book value, up from roughly 60% in the early 1980s.
Blackstone was just six years old when, in 1991, founders Steve Schwarzman and Pete Peterson decided to expand their investment-banking division to include restructurings such as debt-for-equity swaps. Coleman, then at Citibank, jumped at the chance to join Wall Street's rising stars and earn a bigger paycheck.
"I went from a very bureaucratic organization to a meritocracy," Coleman said in an interview. "At Citibank, you could have spent all day reading the internal memos in your in-box."
Like all investment bankers at the time, Coleman crisscrossed the country as one industry after another ran into trouble. He recalls flying from New York to San Francisco to work on the Excite@Home bankruptcy. It was Sept. 10, 2001, the day before the terrorist attacks that brought down the World Trade Center.
Coleman was promoted to co-head restructuring with the late Art Newman, his mentor at Blackstone, and his range of assignments widened. They included the 2008 failure of Iceland's Kaupthing Bank, the 2013 bankruptcy of Detroit and the current bankruptcy of Latam Airlines Group SA.
"My goal was always to work for the debtor, not the creditors," Coleman said. "I wanted to figure out how to calm the situation down, find some liquidity, build a new balance sheet and help develop a strategy."
One of Coleman's legacies is the so-called Blackstone Protocol, an agreement with the Justice Department's U.S. Trustee in Manhattan governing the retention and payment of financial advisers under bankruptcy law. It survived a legal challenge in 2017 and remains the standard in courts across the country.
Until the late 1980s, restructurings were largely renegotiations with bank lenders or insurers. That changed as hedge funds transformed distressed-debt investing into a zero-sum battleground. Today, such reorganizations often are complex courtroom dramas with multiple classes of creditors, plus phalanxes of financial and legal advisers.
The shift has been a boon to Wall Street. Once viewed as a convenient hedge against a slump in mergers-and-acquisition work, restructuring now provides steady revenue for investment banks including Houlihan Lokey Inc., Moelis & Co., Lazard Ltd., Evercore Inc. and Rothschild & Co.
Blackstone's team eventually swelled to about 50 bankers with the growing volume of corporate cash crunches, debt defaults and bankruptcies. But tensions rose internally as the firm became a giant in buyouts and credit investing.
"The conflicts became very challenging," Coleman recalled.
In 2015, the business spun off from Blackstone and combined with PJT, a then-fledgling advisory firm founded by former Morgan Stanley M&A banker Paul Taubman. Coleman remained head of restructuring and special situations. He ceded that title to Steven Zelin in 2018 and became global chairman of the group.
Marshall Huebner, the global head of restructuring at law firm Davis Polk & Wardwell, described PJT as a "juggernaut" and said Coleman's "mentorship of an entire generation of extraordinary younger bankers is peerless."
Coleman plans to retire officially in the next few weeks and said he probably will remain a senior adviser to the New York-based firm.