Domino's Options Show Earnings May Spark New Highs
(Bloomberg) -- It's been a busy week for pizza stocks and there may be more toppings in store for investors.
Options prices suggest that shares of Domino's Pizza Inc. may hit a record high if the company impresses with its second-quarter results Thursday morning. The options imply a one-day move of 6.1 percent up or down, according to data compiled by Bloomberg. While that's less than the average move of 6.9 percent, it could be enough to lift the stock above its prior intraday high of $293.81, set on June 22.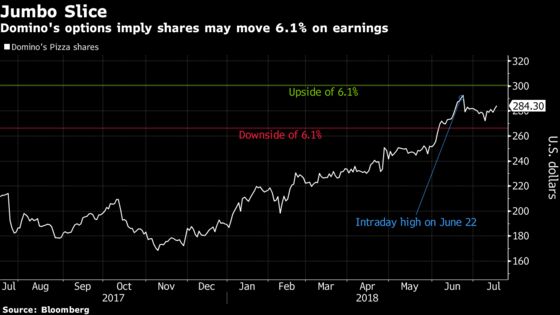 Shares of Domino's have risen 50 percent this year, bolstered by a savvy tech strategy that has helped it gain market share in the fragmented pizza category. Competitor Papa John's International Inc., already coping with slumping sales, suffered another setback last week when its chairman and founder was ousted over his use of a racial slur. The stock rebounded Wednesday on a report that the now ex-chairman had held merger talks with Wendy's Co. Meanwhile, shares of Pizza Hut parent Yum! Brands Inc. are down 2.6 percent this year.