Pizza and Beer Lose Their Charm, Roiling Yum and Molson Coors
(Bloomberg) -- A piping-hot pepperoni pie, washed down with a sudsy brew: The combo is a staple of macho American culture, a Sunday ritual while enjoying the football game, and the culinary accompaniment to poker night.
Tastes have changed and refined, with fancier local joints and microbreweries crowding in. Some consumers just want to avoid all those carbs, and young people have developed other habits -- veggie burgers and hard seltzer such as White Claw. Big companies are trying to adapt to the fast-changing world -- Anheuser-Busch InBev has introduced craft beers, while Domino's Pizza Inc. is testing unmanned pizza delivery -- but most are still grasping for a way forward.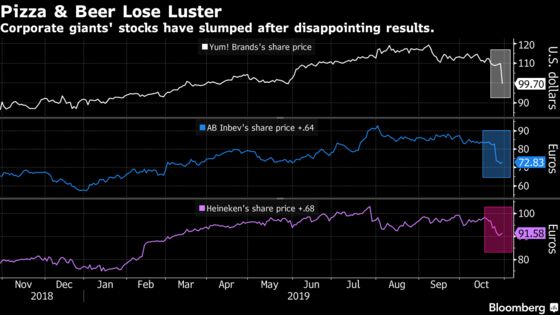 On Wednesday, Pizza Hut's parent Yum! Brands Inc. posted quarterly sales that trailed Wall Street estimates, sending the shares tumbling. And Molson Coors Brewing Co. disclosed plans to cut as many as 500 jobs and close an office in Denver, where it moved in just a few years ago.
They followed AB InBev, which last week lost about $20 billion in market value on concerns about a slowdown in China, and Heineken NV's tepid outlook. Among the few bright spot so far this earnings season was Danish brewer Carlsberg A/S.
The beer industry has struggled for years now, with consumption of the classic American adult beverage declining even as craft beer grows. It's similar to what's happening to classic food brands that dominated supermarket shelves for decades -- think Kraft Heinz -- that are now losing sales to upstarts as options proliferate.
Many efforts to stay relevant haven't panned out. AB InBev's attempt to broaden its appeal with new products like malt-based beverages and regional craft beer offerings haven't widely attracted drinkers who are abandoning mainstream beer, according to Bloomberg Intelligence analyst Duncan Fox. And Molson's latest efforts may not be enough to revive growth, Fox wrote, in spite of initiatives that include an investment in Canadian cannabis-infused soft drinks and hard seltzers.
"Beer drinkers, exposed in recent years to a rising number of competing low-alcohol refreshers like hard teas, lemonade and spiked seltzer, have become less loyal to both the traditional beer category and beer brands within it," according to Bloomberg Intelligence analyst Ken Shea.
Pizza, the once ubiquitous take-out order, also has a lot of competition in fast-food. From plant-based Whoppers at Burger King to chicken sandwiches that cause a Twitter storm, the fast-casual and convenient options are plentiful.
Even Domino's, the tech-savvy pioneer in fast delivery, is having a hard time keeping ahead of competition. Same-store sales, a key metric in the industry, will rise 2% to 5% in the U.S. in the next two to three years, the company said earlier this month. That's a marked slowdown from three years ago, when they were above 10%.