Pipeline Prospects in Canada Snarl Rail Talks, Cenovus CEO Says
(Bloomberg) -- Canada's improved pipeline picture may be a boon to the nation's oil patch in a few years, but that expected good fortune is hurting efforts to move more crude in the near term.
That's because the increased prospects of three major pipelines for Canadian oil starting service in the coming years are making producers more reluctant to strike the longer-term deals that rail companies are seeking, according to Cenovus Energy Inc. Chief Executive Officer Alex Pourbaix.
Pourbaix's company, one of Canada's largest oil-sands producers, has been talking with railroads about adding more capacity, and the sticking point in those negotiations has been the length of the deal. Railroads don't want to invest in new cars and train new people to service energy producers only for a year or two, he said.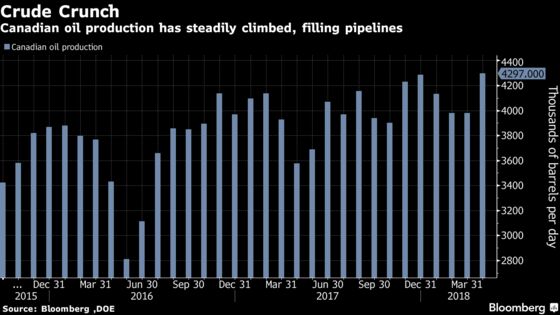 But oil companies don't want to be stuck paying for more-expensive rail capacity if TransCanada Corp.'s Keystone XL, Enbridge Inc.'s expanded Line 3, and the larger Trans Mountain conduit are all in service in a few years.
"What I'm not interested in doing is executing a quick rail deal to get some short-term relief that could end up ultimately being painful for the company and our shareholders," Pourbaix said in an interview. "It's complicated by the fact that I do think we are going to see some, if not all, of those pipelines built."
Still, Pourbaix said he's confident that his company will be able to strike a deal with a rail company that works for both parties.