Pinkberry Owner Plunges Amid 'Information Void' on Whistleblower
(Bloomberg) -- MTY Food Group Inc., the owner of frozen-yogurt chain Pinkberry, plunged by the most in 14 years, after delaying the release of its quarterly results on a whistleblower complaint about the company.
Shares of the St. Laurent, Quebec-based franchiser tumbled as much as 13%, its biggest intraday decline since October 2005. MTY, which was scheduled to report its fourth-quarter earnings on Feb. 18, provided no other information on the purported employee complaint, but said the allegations "are baseless and frivolous," according to a statement Friday. The earnings results are still expected within the regulatory deadline.
"There is a massive information void," Michael Glen, an analyst at Raymond James said in a report. "We would fully anticipate the stock will respond as such."
The board of directors is taking "the required amount of time to address the matter in the appropriate manner," MTY said in a statement.
"We would caution investors against selling into significant pressure until further information presents itself," Glen said.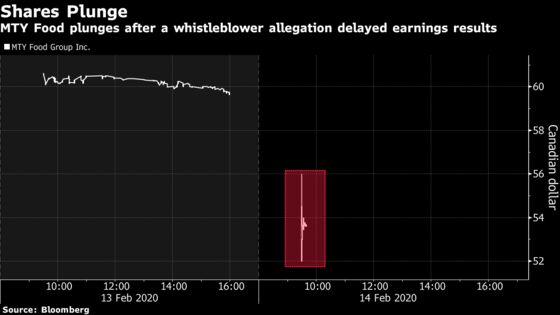 MTY shares have slumped in the two days leading up to the company's statement Friday. The sell-off wiped out their 2020 gains, while the S&P/TSX Composite has climbed more than 4% in the span.
MTY owns and operates restaurants and is one of the largest franchisers in North America. Besides Pinkberry, it operates ice-cream provider Cold Stone Creamery and Canadian fast-food outlet Mr. Sub.