Pink Prosecco Is the Fizz That's Poised to Ride the Rosé Wave
(Bloomberg) -- What could be more romantic for Valentine's Day than a glass of pale pink, easy drinking, sparkling wine? Even better, one that costs less than $20 a bottle? 
Vintners in the northern Italian prosecco region are banking on the combo of ever popular rosé and prosecco—which, over the past decade has gone from niche product to a half-billion bottles in sales annually—to become a "lifestyle symbol" that recalls hanging out at Venetian wine bars and sunning on La Dolce Vita beaches.
But the story behind this new pink boom is more complicated. Although the most luscious examples are fresh, bright, and satisfying enough for love-forever toasts, not all are worth pouring on V-Day—or any day—even at cheap prices. Big U.S. brands are trying to cash in by bottling Italian rosé prosecco under their own labels, but most don't have the same light stylishness of those from Italian vintners. 
That's my takeaway from a blind tasting of more than 20 examples available so far. (See my picks below.)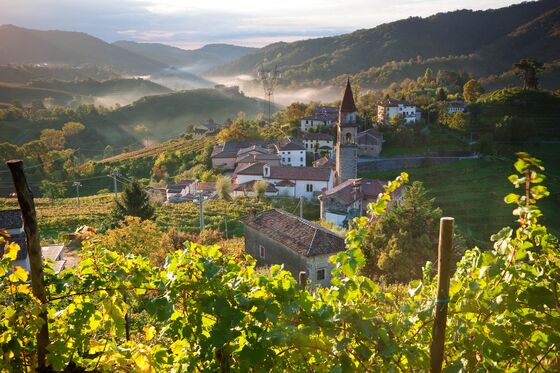 First, rosé prosecco isn't really new. The large prosecco DOC appellation in the Veneto and Friuli regions, north of Venice, has been making pink sparklers for decades, but it wasn't until 2020 that vintners could label them "prosecco." 
To change this required the establishment of strict grape and winemaking rules by the consortium of prosecco producers and approval by Italy's Ministry of Agriculture, which happened last spring. In late October, the EU weighed in with its approval. 
Wineries can now put "rosé prosecco DOC" on the label, but only if the fizz adheres to the following:
It's a blend of the region's white grape glera (used for regular prosecco) and 10% to 15% pinot nero (pinot noir).

Examples can be brut nature (very dry)

to extra dry (very slightly sweet).
All must be vintage dated (millesimato)
Wines must use the Charmat/Martinotti process, in which the second fermentation that produces bubbles happens in pressurized steel tanks, rather than in individual bottles, as in Champagne.
Rosé prosecco ages at least 60 days in tanks to gain more flavor. 

And in a nice note, the color should be "pink more or less intense and shining."
Part of the impetus to add this new category, emailed Stefano Zanette, head of the DOC prosecco consortium, was a research study showing that 71% of Italian respondents would buy official prosecco rosé. It's lighter, more delicate and lower in alcohol than pink sparklers from other regions, like French cremants and Champagne.
Not every producer is on board. 
While the large basic prosecco DOC area embraced the new category, the smaller, hilly subzone of Coneglione-Valdobbiadene, famous for higher-quality DOCG prosecco superiore and single vineyard bubbly, did not. (The difference between the two is roughly akin to basic Chianti vs. more prestigious Chianti Classico.) 
Some producers, such as Bisol, Ruggeri, and Valdo, make prosecco in both areas and have opted to debut a rosé prosecco because, as Valdo winery proprietor Pierluigi Bolla puts it, "customers wanted it." Others are continuing to market rosé cuvees labeled "rosé sparkling wine," as they may use other grape varieties in the blend or don't include a high enough percentage of glera to merit the designation. 
One reason the DOCG area is rejecting the idea, opines Francesco Zonin, vice president of Zonin1821, is to help differentiate its higher quality wines from more basic examples. It sees the future in single vineyard prosecco. 
But Gianluca Bisol, president of Bisol winery, is convinced that eventually, in a decade or so, there will be rosé prosecco superiore—from the historic hills of Valdobbiadene, too. 
For now, the best new pink proseccos are delicious sip-anytime fizz for when you need five minutes of relaxation, and the color is, as Bisol terms it, "a romantic dream." My top picks, and none of the plonk, below, all labeled Rosé Prosecco DOC. 
Check with your local retailer, as these wines, which started being imported January 1, are continuing to stream in and arrive on shelves. And just like Champagne, don't pair with chocolate.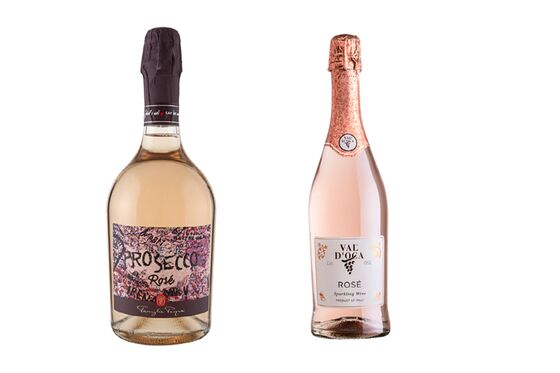 2019 Famiglia Pasqua Passione Sentimento Extra Dry ($14) 
The label features a photo of a graffitied wall leading to Juliet's house in Verona, the supposed inspiration for Romeo and Juliet's famous balcony scene. The copper-pink wine is savory and round, with lingering flavors and aromas of raspberries. 
2019 Val d'Oca Extra Dry ($15) 
Fragrant, with plenty of ripe fruit flavors, this sparkler also has an earthy component and a fresh, clean, zingy aftertaste.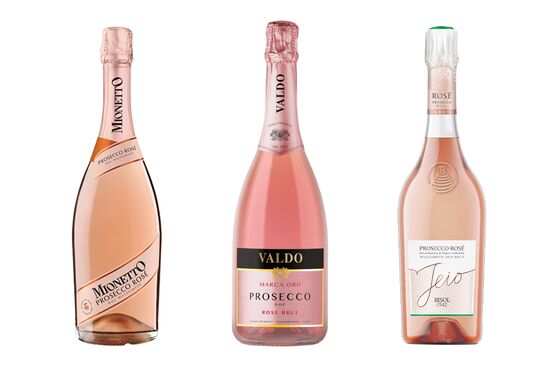 2019 Mionetto Extra Dry ($14) 
This 130-old company in Valdobbiadene helped introduce prosecco to the U.S. Its new rosé is the appealing color of peach blossoms. It is very fresh, sleek, clean and salty, with lots of flavor and explosive bubbles. Think aperitif. 
2019 Valdo Marca Oro Brut ($16)
This gentle, balanced bubbly is soft, delicate, and fruity, with aromas of ripe strawberries and rich, ripe, cherry and strawberry flavors. Good with grilled fish or salmon or beef tartare.
2019 Jeio by Bisol Brut ($17) 
A top producer of high-end prosecco superiore, Bisol makes less expensive bottlings under the Jeio label. Coral colored, floral scented, and delicate, this one is soft and balanced, less fruity than most, and in a drier brut style that pairs with salty appetizers and antipasto.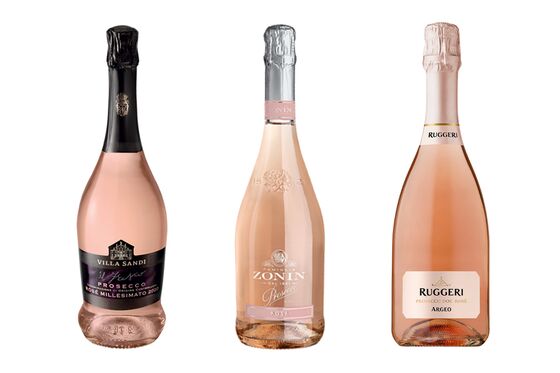 2020 Villa Sandi Il Fresco Brut ($15) 
A standout. This subtle, silky example has a drier style, with a luscious pink salmon color, fragrant floral and mint aromas with hints of cherries, and a zingy, salty, savory and citrusy taste.
2019 Zonin Extra Dry ($16) 
Lively and frothy and positively gulp-able, with juicy strawberries-and-cream flavors. Zonin owns wineries in many Italian regions, and it has a long history in the prosecco region.
2020 Ruggeri Argeo Brut ($17) 
This pale, pink fizz offers a round lush texture, aromas of flowers and red currants, and flavors that hint of fresh berries.