Physical Oil Swaps Point to a Market That's Only Getting Tighter
(Bloomberg) -- The physical supply of oil in northwest Europe is looking increasingly constrained as barrels from the North Sea get shipped out to Asia and Russia cuts the flow of cargoes dramatically.
Contracts that indicate the strength of Dated Brent, a physical benchmark for North Sea oil used to settle millions of barrels a day of crude transactions, are currently trading in a pattern known as backwardation. The structure, in which oil refineries are prepared to pay premiums to procure immediate barrels, is the most bullish it's been since March 6. Derivatives linked to Russia's main export grade are also stronger on the back of a dwindling export program.
The improvements reflect the fact that refineries in the world's biggest consumers, including China and India, are lifting their consumption at a time when European countries are slowly limping out of lockdowns too. It's also a supply story because producer nations led by Saudi Arabia and Russia are keeping more crude supply off the market than ever before in a strategy that's looking increasingly successful as a means of propping up prices.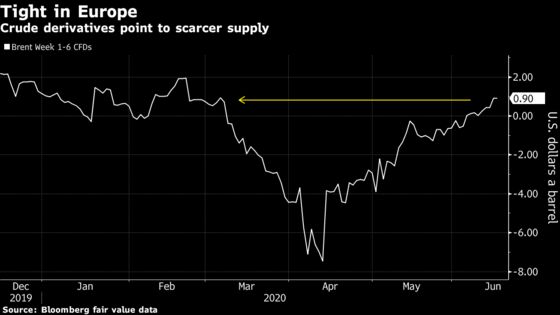 "Spot physical markets remain firm," Eagle Commodities Brokers Ltd., an oil brokerage, said in a note to clients. The move is "implying tight supply of medium sour crude locally and in Asia."
A glut of North Sea oil that had been stored at sea is also starting to wane. In part, that's because consumption by Chinese refiners has picked up, with four supertankers expected to sail to Asia in the coming weeks, according to ship-tracking data compiled by Bloomberg.
Derivatives tied to Russia's Urals crude have been boosted by sharp reductions in Russia's seaborne oil exports in recent months. June shipments from the nation's Baltic and Black Sea ports were set at the lowest level since 2014. And the early signs are that supplies in July could be even lower, with just three cargoes planned for export from Primorsk, the nation's main export facility, in the first five days of the month.
The recovery is not without glitches. Though consumption is picking up, refining margins remain subdued. In Europe, profit from making diesel reached a multi-year low late last month and remains depressed.
Even so, physical crude markets are for now shrugging off that weakness, buoyed by Asian demand in particular.
"There was some good support in the North Sea coming from China taking a lot of barrels," said Olivier Jakob, managing director of consultant Petromatrix GmbH.