Phoenix to Buy ReAssure From Swiss Re in $4.3 Billion Deal
(Bloomberg) -- Phoenix Group Holdings Plc agreed to buy Swiss Re AG's U.K. unit ReAssure Group Plc, extending an acquisition streak with the biggest deal in the European insurance industry this year.
The transaction values ReAssure at 3.25 billion pounds ($4.3 billion) and will see Zurich-based Swiss Re receive 1.2 billion pounds in cash and shares in Phoenix, according to a statement Friday. Bloomberg News had reported Thursday that the two firms were in talks.
Shares of Swiss Re climbed as much as 3% in Friday trading and were up 2.6% at 1:49 p.m. in Zurich. Phoenix was down 2.3% in London, after initially rising as much as 2.7%.
Phoenix, with a market value of 5.3 billion pounds, has been buying up portfolios from legacy insurers under pressure from rising costs. The acquisition marks a turnaround in Swiss Re's fortunes after it called off a London initial public offering of ReAssure in July because of weak demand from institutional investors. Friday's deal values the business at the top of the range Swiss Re had sought in the failed listing.
"This is exactly the kind of deal that Phoenix has been looking for," Paul De'Ath, an analyst at Shore Capital, wrote in a note to clients. "This cements Phoenix as the leading life consolidator in Europe and paves the way for further deals."
Swiss Re will get Phoenix shares equal to a 13% to 17% stake in the company and will be entitled to a seat on its board, according to Friday's statement.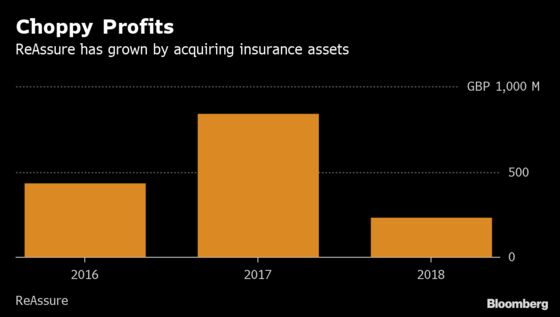 ReAssure has been buying closed life insurance businesses, which aren't taking on new customers and instead manage existing policies until they mature. Such firms benefit from greater scale, which enables them to lower costs. The ReAssure deal is Phoenix's biggest-ever acquisition, surpassing its 3 billion-pound purchase of Standard Life Aberdeen Plc's insurance unit last year, data compiled by Bloomberg show.
Phoenix is strengthening its position as the biggest life insurance and pensions consolidator in Europe. The company will have 329 billion pounds of assets under administration and more than 14 million policies after the ReAssure purchase is completed. The deal will generate 800 million pounds of cost and capital savings and support Phoenix's plans to increase its 3% dividend.
Consolidators have benefited as the insurance industry shifts away from capital-intensive legacy products, shunning for example policies with guaranteed returns that are risky for the insurers. Companies like Phoenix buy these old insurance portfolios, bring down costs and sometimes change the investment strategy. Phoenix also manages corporate pension assets and writes new policies.
Bank of America Corp. was lead financial adviser to Phoenix. The company was also advised by Citigroup Inc. and HSBC Holdings Plc. Swiss Re worked with Morgan Stanley and Fenchurch Advisory Partners.
Swiss Re Chief Financial Officer John Dacey said in July after pulling the IPO that there was "no pressing need" to divest the shares at a price which didn't reflect its full value. While the sale will result in a pretax charge of about $300 million to be booked in the fourth quarter, he said in a Bloomberg TV interview on Friday that the board will discuss the possible impact on dividends and share buybacks early next year.
The firm had planned to use proceeds from the IPO to help fund share repurchases.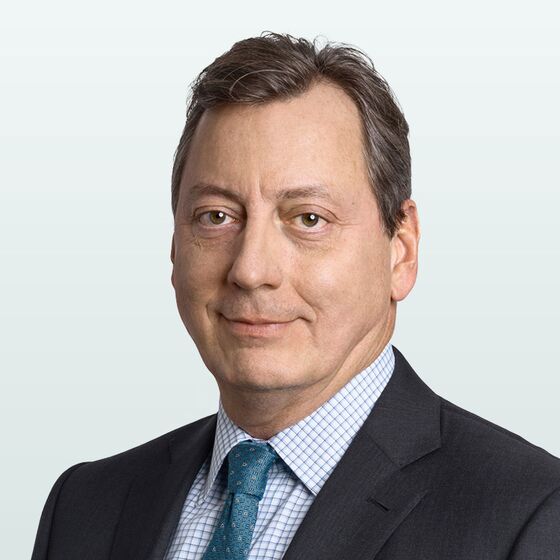 For Phoenix Chief Executive Officer Clive Bannister, who's due to step down in March, the deal caps a legacy of expanding the company through a series of acquisitions. Its shares are trading close to a record high after having surged more than 30% this year.
Bannister, a former head of private banking at HSBC Holdings Plc and the son of sub-four-minute-mile runner Roger Bannister, has run Phoenix for the last eight years. Aside from the acquisition of Standard Life's insurance unit, his purchases include Deutsche Bank AG's U.K. insurance unit Abbey Life Assurance Co., and Axa SA's U.K. pension and protection business.
Bannister is set to be succeeded by Andy Briggs, who joined from Aviva Plc.