Philips Sees Sustained Growth After Profit Meets Target
(Bloomberg) -- Royal Philips NV said it expects steady revenue growth in 2021, bolstered by acquisitions and a record quarterly haul of contracts to upgrade hospital equipment.
The maker of respiratory gear and body scanners increased sales 3% in 2020 and predicted another year of low-single-digit growth this year in a statement on Monday. Fourth-quarter earnings totaled 1.14 billion euros ($1.4 billion), in line with estimates.
The coronavirus pandemic is driving a long-term shift toward virtual care, boosting demand for equipment that allows health practitioners to look after patients remotely. Philips also saw a return to growth at its diagnostics division in the quarter.
"We finished the year strongly," Chief Executive Officer Frans van Houten said in a Bloomberg Television interview. The Dutch company pulled in 25 long-term contracts with hospitals in the fourth quarter. "I don't ever recall that," Van Houten said.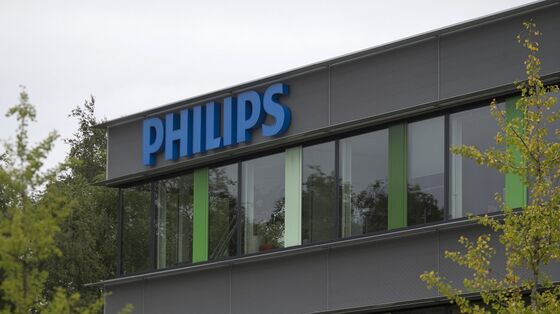 The latest wave of infections has stalled a recovery in elective procedures after a return to pre-crisis levels from September to November, according to Van Houten. Although planned surgery was down an average 30% downturn in December and January so far, that compares with the 70% plunge back around April.
This time around, hospitals are keen to keep appointments and aren't shying away from placing orders for equipment, he said.
Shares of the Amsterdam-based company advanced 2.6% to 46.84 euros as of 10:00 a.m. local time. They are up about 7% so far this year, valuing Philips at 43 billion euros.