Philips Declines as Profit Disappoints and Trade War Looms
(Bloomberg) -- Royal Philips NV shares fell the most in seven years after missing earnings expectations and warning trade wars and Brexit will weigh on its business.
The Dutch health-technology company's profit and sales growth missed estimates, with the shortfall most notably at the personal-health unit that makes products like electric toothbrushes, shavers and equipment to help with sleep and respiratory disorders. The results sent the stock down as much as 9.9 percent on Monday, the biggest intraday drop since June 2011.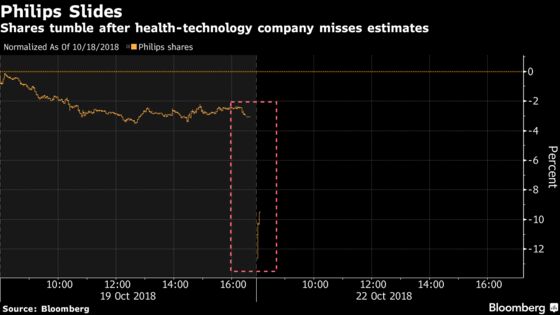 Chief Executive Officer Frans van Houten acknowledged in an interview with Bloomberg TV that he would have liked the earnings "to be stronger." Adjustments , he said, will have to be made to prices in some emerging markets such as Argentina and Turkey, where local currencies have weakened considerably, and to the company's manufacturing footprint due to tit-for-tat tariffs imposed by the U.S and China. The impact of the trade war could shave 60 million euros ($69 million) from profit next year, he said.
"We will redesign some of our supply chains" and create regional manufacturing hubs, he said. "We are in the good position of having factories in the United States, in Europe and in Asia. We can rebalance those going forward in order to avoid some of the duty impact."
The shares were down 9.3 percent to 31.53 euros at 5:15 p.m. in Amsterdam, giving the company a market value of about 30 billion euros.
Philips is not alone among European manufacturers grappling with the emerging trade war between the U.S. and China and currency volatility. Swedish compressor make Atlas Copco AB on Friday warned that makers of semiconductors and cars will order fewer tools and equipment in the coming months due to concerns about issues like trade. For Philips, the U.K.'s plans to split from the European Union also threatens to upend its production.
"We do need to look at our manufacturing facility in the U.K.," Van Houten said. "We need frictionless trade and if that is in any way hampered, then the future of that factory may be at risk."
U.K. and EU negotiators are deadlocked in talks over the divorce treaty that will govern exchanges between the two sides and this will shape how manufacturers like Philips can circulate factory supplies and finished products.
Philips reported third-quarter adjusted earnings before interest, taxes and amortization increased 7 percent to 568 million euros, less than the 584 million euro-estimate of analysts in a Bloomberg survey. The company reiterated a 2017-2020 target for sales growth of 4 percent to 6 percent. It reached 4 percent in the third quarter.
The growth rate of Philips's personal-health unit, which contributes the most to its profit, was 4 percent, in line with Van Houten's prediction of an improvement in the second half of 2018, yet falling short of an analysts' expectation of 5.3 percent.
"I would like it to be stronger as well," the CEO said in the interview with Bloomberg TV. "We delivered on the step-up we promised" from the previous quarter. Growth was 2 percent then. He called the recovery slower than expected.
"Philips's personal health business, which has always been its star performer, and its other two core businesses came out short of expectations, but a strong order intake could bode well for the fourth quarter," Marcel Achterberg, analyst at Bank Degroof Petercam, said by phone.
One fact weighing on Amsterdam-based Philips's results was the adverse impact of emerging-market currencies on sales. In the interview, the CEO said he's considering price increases in some of those markets, citing places like Argentina and Turkey.