Chinese Vessels Swarm Reef, Drawing Philippine Protest
(Bloomberg) -- The Philippines issued a formal diplomatic protest to China after hundreds of fishing vessels were spotted at a disputed reef in the South China Sea.
About 220 Chinese vessels were seen moored in line at Whitsun Reef in the South China Sea on March 7, a Philippine government task force overseeing the disputed seas said in a statement on Saturday. The area, which the Southeast Asian nation calls Julian Felipe, is a large but shallow boomerang-shaped coral reef within the Philippines' exclusive economic zone, the task force said.
The vessels' presence is "a concern due to the possible overfishing and destruction of the marine environment, as well as risks to safety of navigation," the Philippines government statement said.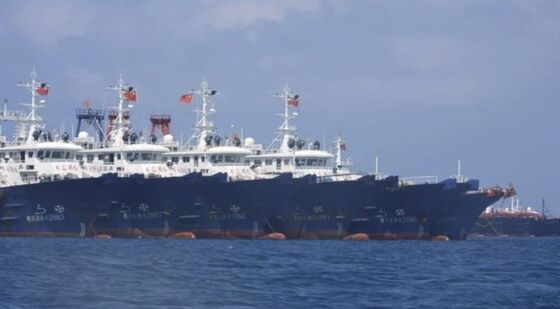 The incident comes as Manila and Beijing have struggled to reach an agreement on a potentially lucrative joint oil exploration pact in the disputed waters amid a race to build up a presence in areas of the sea claimed by both countries.
"We call on the Chinese to stop this incursion and immediately recall these boats violating our maritime rights and encroaching into our sovereign territory," Defense Secretary Delfin Lorenzana said in a statement. "We are committed to uphold our sovereign rights."
A diplomatic protest was "fired off tonight," Foreign Affairs Secretary Teodoro Locsin said on Twitter on Sunday evening.
During a briefing on Monday, Chinese Ministry of Foreign Affairs spokesman Hua Chunying said that the vessels had been sheltering from the wind near the reef after fishing in adjacent waters. "It is very normal," she said. "We hope the relevant sides can look at this rationally."
China was deploying "numerous ships into the area and stationing them at strategic locations, ready to be called upon to participate in any operations it may wish to carry out against any other countries," said Jay Batongbacal, director of the University of the Philippines' Institute for Maritime Affairs and Law of the Sea. "These operations can cover everything from surveillance to forcing unilateral exploitation of resources to wresting islands away from other nations. Whether this particular deployment of vessels on Whitsun Reef is preparatory to another specific operation, we have yet to see."
Both China and the Philippines have overlapping claims in the resource-rich South China Sea. While the Philippines has built friendlier ties with Beijing since President Rodrigo Duterte came into power in mid-2016, it filed a diplomatic protest in January against China's law giving its coast guard freedom to fire on foreign vessels. In 2019, it also lodged a protest against China after more than 100 Chinese fishing vessels swarmed around Thitu, a Philippine-claimed island in the South China Sea.
Presidential spokesman Harry Roque on Monday played down the possibility of any escalation similar to the one in 2012 when the Philippine Navy apprehended a group of Chinese fishing frigates at the Scarborough Shoal, a reef approximately 120 nautical miles west of the Philippine island of Luzon.
"We have a close friendship. Everything can be discussed between friends and neighbors," Roque said in a televised media briefing.
In October, Duterte removed a major hurdle in advancing oil exploration with Beijing by lifting a six-year ban on seeking oil in the South China Sea in an effort to ensure that talks between two sides result in actual projects. A Philippine environment official had said in a March 19 briefing that the Southeast Asian nation is willing to allow China to join a maritime research in the South China Sea with Environment Undersecretary Analiza Teh saying environmental protection should transcend territorial dispute.
In 2013, the U.S. Energy Information Administration estimated that 4 trillion cubic feet of gas reserves worth billions of dollars could be found in South China Sea areas claimed by the Philippines and disputed by China.
"I think these things will develop in parallel: responding to pressure from China and discussing joint exploration," said Shahriman Lockman, a senior analyst at the Institute of Strategic and International Studies in Malaysia. "The real question is what will the Americans do about this."