Philippines, China Edge Closer to a South China Sea Energy Deal
(Bloomberg) -- The Philippines and China signed a framework agreement on joint oil and gas exploration in the South China Sea, setting the stage for a deal long sought by Beijing and easing a flash point between the two nations.
The signing of the cooperation pact on oil and gas development was witnessed by presidents Rodrigo Duterte of the Philippines and China's Xi Jinping, according to televised coverage of the Chinese leader's visit to Manila. The two nations also forged 28 other agreements on infrastructure, banking and finance, trade and security, according to the televised event.
Xi said China and the Philippines will manage contentious issues in the South China Sea, and work with other countries belonging to the Association of Southeast Asian Nations to solidify a code of conduct in the disputed waters.
"The President and I agreed to elevate our relationship to one of comprehensive strategic cooperation," Xi said during a joint briefing with Duterte after the agreements were announced. "This vision charts a clear course for Philippine-China relations and sends a message to the world: that our two countries are partners in seeking common development."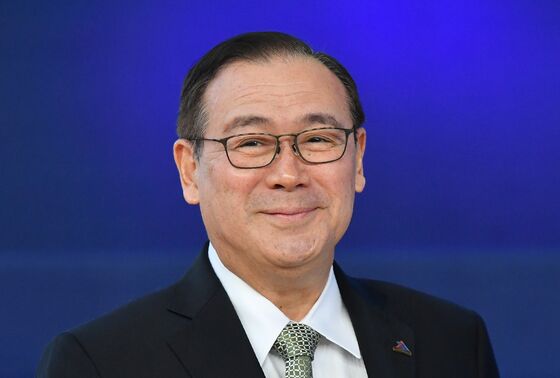 Philippine Foreign Secretary Teodoro Locsin told reporters before the event that the exploration agreement wasn't legally binding, and instead was a framework on how to proceed when negotiations start.
China has stepped up efforts over the past decade to block Southeast Asian nations from extracting energy resources in the South China Sea. A 2016 ruling by an international arbitration panel in the Hague rebuffed Chinese claims over parts of the sea -- but failed to halt its activities in areas also claimed by the Philippines, Vietnam, Brunei, Malaysia and Taiwan.
Duterte, who came to power in 2016, has pivoted away from the U.S. -- a longtime defense ally -- to China. The Asian nations have since made progress on reaching an agreement to jointly explore in a disputed part of the South China Sea, an issue that roiled ties between Beijing and Duterte's predecessor, Benigno Aquino.
"Thanks to our joint efforts, we have made productive results in cooperation in all areas," Xi said earlier Tuesday before a bilateral meeting with Duterte. "Good neighborliness, friendship and winning cooperation is our only correct choice."
Aquino had halted exploration work at Reed Bank in the South China Sea after filing the arbitration case disputing Beijing's claims to the resource-rich waters. The Hague court ruled in favor of the Philippines in July 2016, barely a month after Duterte took office.
A potential venture between Philippine oil and gas firm PXP Energy Corp. and the state-owned giant China National Offshore Oil Corp. was thwarted when Aquino stopped the exploration.
The U.S. Energy Information Administrated has estimated that 4 trillion cubic feet of gas reserves worth billions of dollars could be found in areas claimed by the Philippines.
Other agreements announced Tuesday included:
A renminbi clearing arrangement and a letter of no objection from both sides to organize a peso-yuan spot market
Philippine yuan bond issuance, building on a maiden Panda debt sale earlier this year
Funding for bridge and dam projects in the Philippines