Philippines Evacuates Thousands as Typhoon Vamco Nears
(Bloomberg) -- Philippine authorities on Wednesday evacuated thousands of residents in eastern coastal communities ahead of a new typhoon, just weeks after Super Typhoon Goni barreled through the Southeast Asian nation.
Typhoon Vamco, locally known as Ulysses, is forecast by the Philippine weather bureau to bring damaging winds and intense to torrential rains to provinces in the main Luzon island, including the capital region, this week. More than 13,000 people were ordered to evacuate areas prone to floods, storm surges and landslides, according to local disaster-response agencies.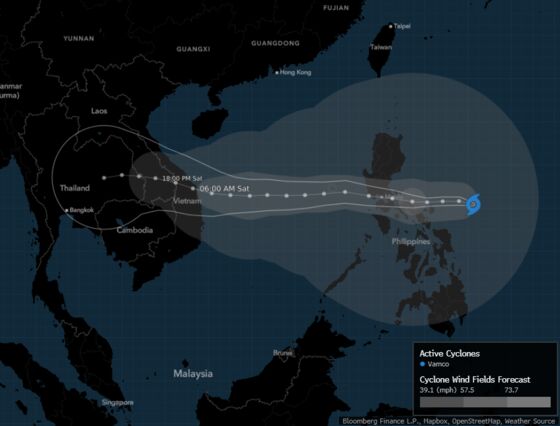 More than 100,000 people are still displaced because of previous weather disturbances, disaster-response agencies said. President Rodrigo Duterte suspended classes in public schools and work in non-essential government offices in most of Luzon through Thursday, according to a memo released Wednesday.
Areas including Metro Manila were placed on the third-highest alert in a five-step warning, as the nation's 21st storm this year picked up intensity, the weather bureau said. As of 4 p.m. local time, the eye of Vamco was 60 kilometers east northeast of Camarines Norte province in southern Luzon, packing winds of 140 kilometers per hour and gusts of up to 195 kilometers per hour.