Philippine Central Bank Governor Signals Mid-Year Rate Cut
(Bloomberg) -- Philippine central bank Governor Benjamin Diokno said he anticipates the next interest-rate cut will probably come "sometime in the middle of the year."
The bank will remain data-dependent, but has additional room to ease even after lowering interest rates Thursday for the fourth time in a year, Diokno said Friday in an interview with Bloomberg TV's Haidi Lun. "With another rate cut yesterday, we still have a lot of monetary space," he said.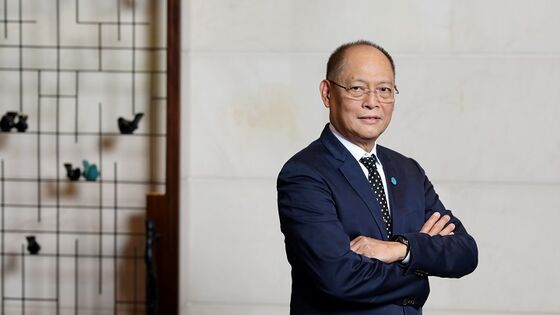 Bangko Sentral ng Pilipinas cut its benchmark rate by 25 basis points Thursday to 3.75%, becoming the latest Southeast Asian central bank to ease as the coronavirus outbreak in China adds to risks to global economic growth. The move came a day after the Bank of Thailand lowered interest rates by 25 basis points and Singapore's central bank indicated there was room for further easing in the currency.
Diokno had indicated last year he foresaw 50 basis points of rate cuts in 2020, after the central bank raised rates by 175 basis points in 2018 and then lowered them by 75 basis points last year.
"The coronavirus maybe just provided us an opportunity to do it much earlier than later," he said Friday.
The peso was little changed at 50.81 per dollar as of 9:58 a.m. in Manila. The Philippine benchmark stock index was down 0.9%.
The virus could shave about 0.2 percentage point off growth in the first quarter of the year and 0.4 percentage point in the second quarter, Diokno said, mainly through the impact on tourism and overseas Filipino workers. Still, a combination of fiscal and monetary support can help the economy reach its 6.5%-7.5% growth target this year, he said.
He said the central bank is in no rush to further lower banks' reserve requirement ratio -- a step to push money into the economy -- after previous cuts were only partially reflected in bank lending. He noted that the central bank is allowed by law to float its own financial instruments.
"That's an additional policy tool if necessary," he said, "but right now there's no desire to do that."
The virus could have a cooling effect on inflation by tamping down oil prices, Diokno said. Consumer prices rose 2.9% in January and the central bank expects them to stay within a 2%-4% range over the next few years.
"We're very comfortable with our inflation situation right now," Diokno said.