PG&E State Review Puts Board Shuffle and Breakup on the Table
(Bloomberg) -- California's top utility regulator singled out PG&E Corp.'s board as an impediment to reform and isn't ruling out carving up the company as officials launch a deep corporate review in the wake of the state's deadliest wildfire.
"It's hard to know from outside how far down the structural changes need to go," California Public Utilities Commission President Michael Picker said in an interview Friday. Authorities are investigating PG&E equipment as a possible cause of the deadly blaze in the Sierra Nevada foothills of Northern California.
His comments capped a roller-coaster week for PG&E shares. They lost about two-thirds of their value during several days of free fall, then partially rebounded Friday after Picker said he doesn't want the company to slide into bankruptcy. PG&E has seen about half its market value, roughly $12 billion, vanish in little more than a week.
The Camp Fire, about 150 miles (240 kilometers) northeast of San Francisco, has consumed more than 142,000 acres, torched thousands of homes and killed at least 63 people. Damages may exceed $15 billion, Citigroup Inc. said.
PG&E executives and lawmakers have tread carefully in the days since the blazes began, making few public comments about the utility's fate. Picker, who has led the Public Utilities Commission since 2014, has been among the few prominent voices to speak up.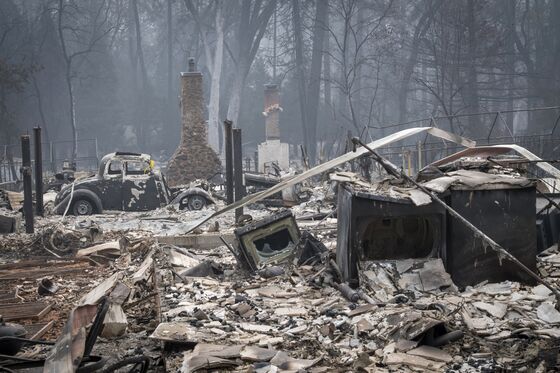 The utilities commission is broadening out an ongoing review of safety at the company to examine "the corporate governance, structure, and operation of PG&E, including in light of the recent wildfires, to determine the best path forward," according to a statement. In an interview Friday, Picker said that the examination will include looking closely at the company's board.
Six of the utility's 12 board members have been in place since before the fatal 2010 San Bruno natural gas pipeline explosion in the San Francisco Bay Area. "That's not a strong message of accountability to the rest of the organization," Picker said.
While the probe will examine whether PG&E would be better off broken up, Picker stressed he does not want to drive the company into bankruptcy. Any changes, he said, would need to be made carefully.
"This is like rebuilding the plane while it's still in flight -- you don't want to crash the plane while you're trying to make it safer," Picker said.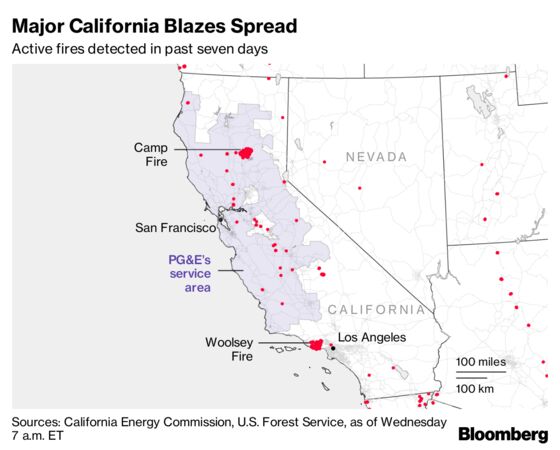 After falling for six consecutive trading sessions, PG&E shares rallied 38 percent Friday following Picker's comments.
PG&E already faces up to $17.3 billion in potential liabilities for wildfires in 2017, according to JPMorgan Chase & Co., bringing its total potential liability from blazes above $30 billion. The utility has $1.4 billion in wildfire insurance coverage. PG&E's credit rating was cut late Thursday to the brink of junk by Moody's Investors Service and S&P Global Ratings.
President Donald Trump will travel to California Saturday to survey damage from the wildfires in northern and southern California. The number of people missing in the blazes exceeds 600.
Meanwhile, California policy makers are informally weighing legislation that would let PG&E sell bonds to cover any possible liabilities arising from the deadly Camp Fire, though no formal proposals have been made.
Because the legislature isn't in session, the earliest any proposal could be introduced would be Dec. 3, when new members are sworn in. Lawmakers may opt to introduce amendments to a wildfire liability law signed in September, according to a research note Thursday from Bank of America. Provisions of the law designed to help PG&E pay for last year's wildfires could be extended to 2018 fires.
As bodies continue to be recovered, lawmakers say they're focused on responding to the needs of the victims.
State Senator Jerry Hill, who has pushed previously to break up PG&E, said this year's devastating fires could make legislators more receptive to the idea. The obstacle, Hill said, is that lawmakers have been wary of the bankruptcy issue. He said he views PG&E's talk of insolvency as a scare tactic.
"We can't continue to bail them out if they're negligent," said Hill, a Democrat. "People talk about them being too big to fail, but I think they're too big to succeed."