PG&E Sinks as Wall Street Weighs 'Posturing' Around Bankruptcy
(Bloomberg) -- Reports that PG&E Corp. is weighing a bankruptcy filing rattled shares and Wall Street early Monday amid wildfire-related liabilities. Wells Fargo suspects there is a bit of "posturing" related to the reports, while Citi is a bit more skeptical of any "gamesmanship." Shares are down nearly 18 percent in pre-market trading.
The company said Friday it's considering changes to both its board and how its businesses are structured as California's largest utility owner faces pressure from state regulators to shake up its management following a series of deadly wildfires. NPR reported shortly after that PG&E is exploring the sale of its natural gas division.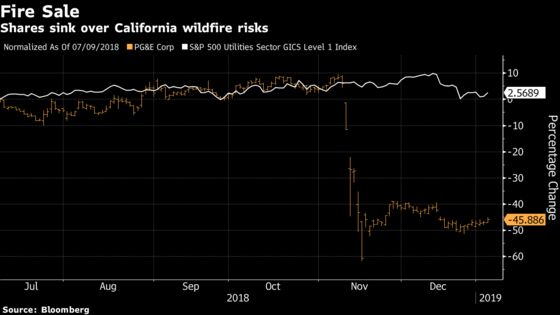 Here's what some analysts are saying:
"There is likely a bit of posturing around the bankruptcy comments – but it is a potential option," adding that "one would think there would be political/regulatory receptiveness to a sale of the gas business and creation of a wildfire fund with the proceeds"
Kalton sees shares being weak on "bankruptcy risk headline but we believe that option will be averted"
On a potential gas operations sale or spinoff, Sempra Energy Inc. "comes to mind," given the company's gas operations in California, Kalton says.
Reiterates outperform rating and price target $46.
"News on Bankruptcy Filing is out for a reason. While PG&E has highlighted proactive steps like Board Refresh and review of 'structural options', they are clearly under some timing pressure, potentially from auditors, given the size of potential liabilities and no clear regulatory support."
Citi doesn't think the news is "gamesmanship – these are likely very real pressures."
Adds that this is positive "read through" for peer company Edison International, saying other California utilities "only benefit from any timely regulatory action."
Wolfe Research, Steven Fleishman
It's "logical for PCG to explore all options given the fire liability risk. But we are skeptical of a N-T filing as there is no imminent trigger event."
"Why the reports of February? One reason could be PCG's YE18 results, where a Camp Fire write-off or auditor concerns are possible. We are not sure why these would precipitate a bk filing since PCG drew its bank lines."
Remains peer-perform, price target cut from $39 to $32.
Morgan Stanley, Stephen Byrd
"A bankruptcy filing is relatively unlikely, but we do believe a sale of the gas utility business is a possible way to address wildfire claims - but the latter could potentially be a positive relative to the deeply depressed current PCG stock price."
Remains equal-weight, price target $31.