PG&E Sees More than $1 Billion in Fire Costs for Past Two Years
(Bloomberg) -- PG&E Corp., the California utility giant that emerged from bankruptcy last year, said it sees total costs of $1.1 billion for damage claims from wildfires linked to its power lines over the past two years.
PG&E recorded an additional first-quarter charge of $175 million for the 2019 Kincade fire, bringing the total estimated claims from the blaze to $800 million, according to a filing Thursday. The utility also booked an added charge of $25 million for the 2020 Zogg fire, raising the total estimated cost of that fire to $300 million. California investigators have found that the two blazes were sparked by PG&E equipment.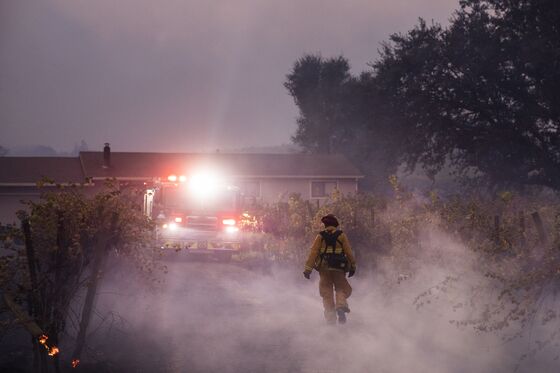 The fire expenses helped to drag down PG&E's first-quarter net income, which fell to $123 million, compared to $374 million for the same quarter a year ago. The company's shares slid as much as 3.9% Thursday and were trading down 1.5% to $10.63 at 12:50 p.m. in New York. PG&E said insurance recoveries will help cover some of the wildfire claims.
The disclosures come as PG&E seeks to return to financial health and restore its reputation after its equipment sparked several deadly wildfires that forced the company to seek Chapter 11 protection two years ago.
Earlier this month, the Sonoma County District Attorney's office filed criminal charges against PG&E for its role in the October 2019 Kincade fire. PG&E disagrees with the charges and will fight them in court, CEO Patti Poppe said during an earnings call with investors on Thursday.