PG&E's Bankruptcy Risk Spurs Trading Surge in Its Muni Bonds
(Bloomberg) -- PG&E Corp.'s plan to file for bankruptcy is trickling into the municipal-bond market, where the California utility has raised cash for power projects.
Some tax-exempt bonds the company issued through state and local conduits have slid as the fallout from California's devastating wildfires pushes the electric utility closer toward bankruptcy, raising the risk that even debt that was issued through government agencies may not be paid back in full.
The price of a bond issued through the California Infrastructure and Economic Development Bank that are backed by the utility's revenue have tumbled to an average of 80.1 cents on the dollar from 90.1 cents in mid-December, according to data compiled by Bloomberg. PG&E's securities were the most actively traded in the $3.8 trillion municipal-debt market Monday, when investors unloaded its floating-rate bonds that can be resold at face value before it seeks court protection from creditors.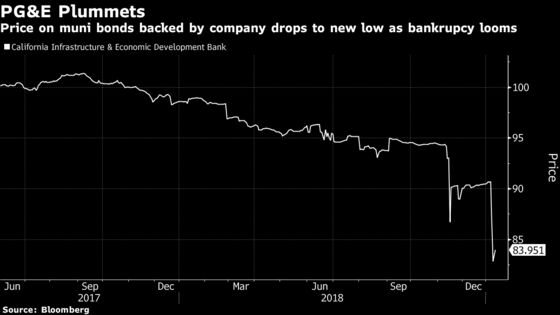 The drop comes as PG&E edges toward seeking court protection from its creditors for the second time in as many decades after the deadliest fires in California history left it facing as much as $30 billion of liabilities. The company has seen two-thirds of its stock market value wiped out.
"It looks like a binary bet at this point to us," said Stephen Shutz, a portfolio manager at Brown Advisory, which doesn't own any PG&E-backed muni bonds. "Either you're betting on them getting bailed out by the state or they're going to file and the bonds probably have more downside and further pain before there's a resolution."
Analysts from UBS Financial Services told clients in a Jan. 10 note that municipal bonds backed by the utility could see pricing volatility if PG&E is held liable for claims related to the wildfires in 2017 and 2018.
Over the weekend, PG&E Chief Executive Officer Geisha Williams stepped down, and the company said it will file for a Chapter 11 bankruptcy by Jan. 29 after giving the required 15-day notice to its employees, according to filing at the Securities and Exchange Commission.
Below is a list of PG&E backed municipal bonds compiled by Bloomberg:
| | | | | | | | | |
| --- | --- | --- | --- | --- | --- | --- | --- | --- |
| Cusip | Issuer | Coupon | Dated Date | Maturity Date | Maturity Size (M) | Coupon Type | Mode | Letter of Credit Bank  |
| 13034ASX9 | Infrastructure/Econ Dev Bank | 1.75 | 9/22/2008 | 11/1/2026 | $50 | Adjustable | Long | N.A. |
| 13034ASZ4 | Infrastructure/Econ Dev Bank | 1.75 | 4/8/2010 | 11/1/2026 | $50 | Adjustable | Long | N.A. |
| 130534XA3 | Pollution Control Fin Authority | 3.25 | 5/23/1996 | 11/1/2026 | $200 | Adjustable | Daily | Mizuho Bank |
| 13033W3H4 | Infrastructure/Econ  Bank | 3.25 | 9/1/2009 | 11/1/2026 | $74.275 | Adjustable | Daily | Union Bank |
| 130534XX3 | Pollution Control Fin Authority | 2.5 | 5/23/1996 | 11/1/2026 | $165 | Adjustable | Daily | Sumitomo Mitsui Banking |
| 834125BC9 | Solano Irrigation District | 5.47 | 2/28/2006 | 1/1/2020 | $9.335 | Fixed | | N.A. |
| 130534XD7 | Pollution Control Fin Authority | 2.75 | 5/23/1996 | 11/1/2026 | $100 | Adjustable | Daily | TD Bank |
| 13033W3J0 | Infrastructure/Econ Dev Bank | 3.25 | 9/1/2009 | 11/1/2026 | $74.275 | Adjustable | Daily | Union Bank |
| 130534XL9 | Pollution Control Fin Authority | 2.5 | 9/16/1997 | 11/1/2026 | $148.550 | Adjustable | Daily | Canadian Imperial Bank |
| 834125BG0 | Solano Irrigation District | 9.25 | 6/13/1986 | 1/1/2020 | $18 | Fixed | | N.A.  |