Former PG&E CEO Won't Be Walking Away Totally Empty-Handed
(Bloomberg) -- While PG&E Corp.'s former Chief Executive Officer Geisha Williams stands to take a hit along with other shareholders in the company's upcoming bankruptcy, she's at least leaving her post with something: She'll get a severance that may amount to a few million in cash.
For leading the California utility giant through a turbulent two years that may soon force it into bankruptcy court, PG&E is planning to award her a perhaps less-than-golden parachute that could range from $2.36 million to $4.46 million, depending on how her departure is categorized, according to the firm's most recent proxy statement.
The departure of Williams, 57, was announced Sunday, hours before the company said it was notifying workers it could file for bankruptcy within weeks. During her tenure at the helm of the San Francisco-based utility, it accrued more than $30 billion in potential wildfire liabilities, according to analyst estimates.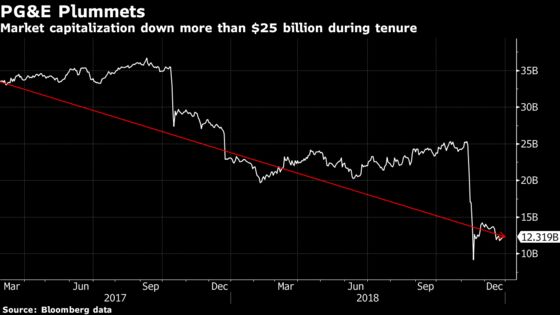 Williams also has $3.1 million of pension benefits that may be in flux if the firm enters bankruptcy. She was paid $8.6 million in 2017, mostly consisting of stock awards, the filing shows. Her unvested stock options and restricted shares will likely be wiped out if the firm enters Chapter 11.
Shares of PG&E fell as much as 50 percent to $8.77 in New York. PG&E's securities were the most actively traded in the $3.8 trillion municipal-debt market Monday, when investors unloaded its floating-rate bonds that can be resold at face value before it seeks court protection from creditors.
Williams knew the risks that she faced because of wildfire liabilities. At an energy conference last year in Houston she said -- jokingly -- that if she failed to change a state law on wildfires, "I won't be here in two years."