PG&E's $1.7 Billion Fire Settlement Could Mean Big Tax Break
(Bloomberg) -- PG&E Corp.'s $1.68 billion settlement agreement with California over wildfires sparked by its power lines could save the bankrupt utility about $470 million in taxes.
Nearly all the wildfire recovery and prevention work included in the agreement should be deductible from both its state and federal taxes, PG&E said in a regulatory filing late Friday.
The agreement reached with state regulators in December covers Northern California blazes in 2017 and the 2018 Camp Fire, the deadliest in state history. As part of the deal, PG&E agreed not to saddle customers with $1.63 billion in costs it will incur preventing and responding to fires.
"Because we will not bill customers for the work, PG&E will incur losses," PG&E spokeswoman Jennifer Robison said in an emailed statement. "The tax treatment of such losses will be determined in accordance with the federal and state tax code."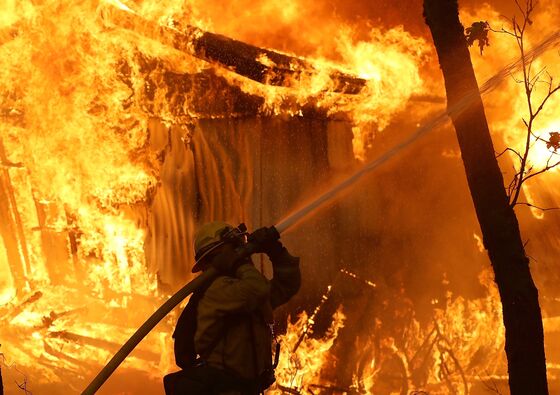 The settlement also directs PG&E to spend an additional $50 million on system enhancements and community outreach. It's unclear whether federal officials will allow the company to deduct that expense from its taxes, PG&E said.
The filing also details how much responding to those wildfires has cost San Francisco-based PG&E, which filed for Chapter 11 in January 2019 facing an estimated $30 billion in liabilities. The company, for example, lists $719.4 million in expenses related to the November 2018 Camp Fire, which killed 85 people and leveled the town of Paradise.