PG&E Soars After Regulator Signals No Bankruptcy Interest
(Bloomberg) -- PG&E Corp. rallied as much as 49 percent in extended trading Thursday after the head of the California Public Utilities Commission said he can't imagine allowing the state's largest utility to go into bankruptcy as it faces billions of dollars in potential liability from deadly wildfires.
"It's not good policy to have utilities unable to finance the services and infrastructure the state of California needs," PUC President Michael Picker said in an interview. "They have to have stability and economic support to get the dollars they need right now."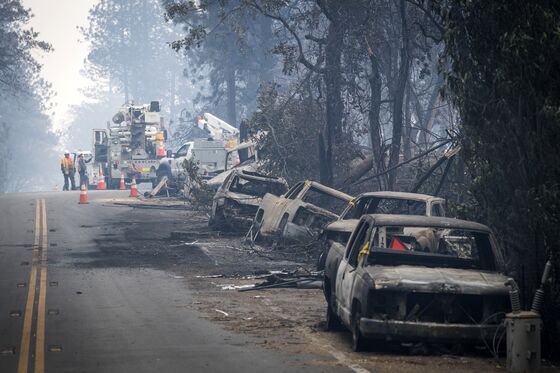 The end-of-day rally reversed hours of frantic selling, in which the utility fell the most since 2001, during the depths of the California power crisis. PG&E shares had plummeted 64 percent since Nov. 7 amid fears that it would be held liable for a catastrophic wildfire that has killed more than 50 people, destroyed thousands of homes and scorched over 140,000 acres.
PG&E began roaring back after a PUC official was said to tell investors on a conference call that the agency doesn't want PG&E to go into bankruptcy. The call was hosted by Bank of America Corp. analysts and included Picker and other commission officials, according to a person who was on the call but asked not to be identified because the discussions were private. Picker confirmed he made those comments.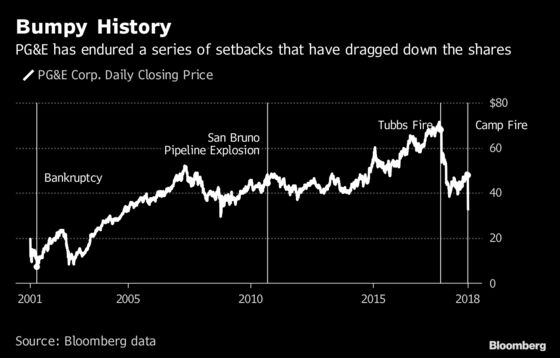 PG&E's credit rating was cut late Thursday to the brink of junk by Moody's Investors Service. The agency lowered the rating to Baa3 from Baa2, the second-lowest level of investment grade, with the possibility of a further downgrade, according to a statement. PG&E's grade reflects an exposure of about $10 billion to the 2017 wildfires, and uncertainty around 2018 liabilities, said Moody's, which also reduced the utility's Pacific Gas & Electric subsidiary to Baa2.
President Donald Trump will travel to California Saturday to survey damage from the wildfires, after he provoked a backlash by repeatedly threatening to cut off federal firefighting money even as the inferno and its death toll grew.
Meanwhile, California policy makers are informally weighing legislation that would let PG&E sell bonds to cover any possible liabilities arising from the deadly Camp Fire, though no formal proposals have been made. Investors are keenly awaiting any action from Sacramento to help the beleaguered utility.
Because the legislature isn't in session, the earliest any proposal could be introduced would be Dec. 3, when new members are sworn in. Lawmakers may opt to introduce amendments to a wildfire liability law signed in September, according to a research note Thursday from Bank of America. Provisions of the law designed to help PG&E pay for last year's wildfires could be extended to 2018 fires.
The Camp Fire has claimed at least 56 lives so far. As bodies continue to be recovered, lawmakers say they're focused on responding to the needs of the victims.
"Any assembly member or senator would be able to introduce legislation on Dec. 3, but I have not heard of anyone expressing their intent to do so," said Kevin Liao, a spokesman for the state assembly speaker. Evan Westrup, a spokesman for California Governor Jerry Brown, wouldn't comment on possible state actions to help PG&E.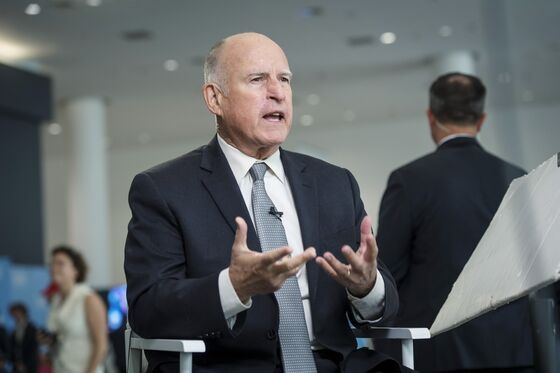 The utility's shares, which had fallen 31 percent during stock trading Thursday, jumped as much as 44 percent after hours.
Regulators have some tools to address wildfire costs from 2018, including establishing a stress test for PG&E and other utilities, Picker said. The agency will examine the operations of PG&E following the Camp Fire and develop methods for determining how big a financial hit it can withstand if held responsible for fire damage.
The legislature would have to pass a new measure to allow PG&E to sell bonds to help cover 2018 fire liability, much as it did for 2017, Picker said.
"Frankly, I think the legislature has some work to do around wildfires," he said. "They may have to clarify what to do in 2018."
There's a growing consensus that any path for PG&E's recovery will have to run through Sacramento. There's an "urgent need for new legislation to better protect utilities from the risk of financial distress and utility shareholders from potentially unlimited fire liabilities. However there is no clear path to new legislation in the near-term," Stephen Byrd and a group of Morgan Stanley analysts wrote in a note Thursday.
While wildfire legislation passed in the fall addresses "many urgent needs, more work remains to combat the devastating threat that extreme weather and climate change pose to our state's shared energy future," PG&E spokeswoman Melissa Subbotin said in a statement.
Edison International, owner of the Southern California Edison utility that supplies power throughout the region where another fire is raging from Thousand Oaks to Malibu, rallied 11 percent in late-day trading after falling 32 percent since Nov. 7.
State action will be complicated by changes from the recent election, including a new governor, Gavin Newsom. But any action perceived as helping utilities over wildfire survivors would be sure to draw controversy, as it did earlier this year over legislation that provided the companies some relief from their liabilities.
Newsom hasn't said what he would do to address the concerns sparked by PG&E and other utilities facing billion-dollar liabilities.
"We're going to assess all those facts -- the governor is in the process of doing the same -- and we'll see where we are when the baton is handed," the governor-elect said Tuesday.
"We do not see a clear person to spearhead this issue," the Morgan Stanley note said.